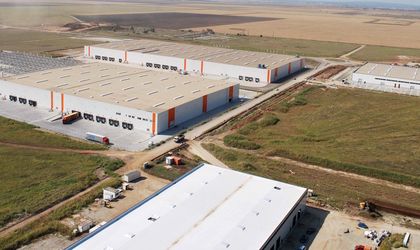 Demand for industrial real estate grew by 24 percent in the last semester of 2012 compared to the first half year and the upward trend will continue, says  CBRE.
Bucharest's industrial space take-up went up by 40 percent in the last half of 2012 compared to the first part of the year, while the industrial stock grew by 2 percent reaching a total of 980,000 sqm, according to a CBRE report on the local industrial market in the last semester of 2012.
"The industry sector represented last year a 3.1 turnover increase compared to 2011 and generated a quarter out of Romania's GDP which comes to show a growing increased interest for this sector. This is why this year, given the political and economic stability, we expect developers to resume industrial park projects which have been postponed for several years," said Marian Orzu, head of industrial department CBRE Romania.
In 2013, tenants will mainly look to build-to-suit projects in buildings which are optimized for their specific activities and a stabile rent market will allow tenants from low performing spaces to move into class A one, he added.
Jones Lang LaSalle Romania forecasts in a report on the local real estate market in Q4 2012, that although there continues to be a preference for Bucharest's main industrial hubs, Ploiesti, Timisoara, Cluj and Constanta are emerging as second-tier industrial hubs. Moreover, in addition to traditional occupiers such as 3PL companies and automotive related companies and suppliers, Romania has started to attract manufacturing companies. However, despite the country's advantageous geographical position, this happens at a low level  mainly because of a lack of proper road infrastructure.
Jones Lang LaSalle Romania estimates the modern industrial stock in Romania to reach 1.8 million sqm, as of Q4 2012, with up to 55 percent of the stock located in Bucharest's industrial hubs. In Romania for the full year 2012, the modern industrial supply increased by approximately 130,000 sqm (including all types of industrial premises such as speculative, built-to-suit, pre-let and owner-occupied units).
The most important representative built-to-suit and owner-occupied industrial premises which were delivered in the last quarter of 2012 include the 20,000 sqm built-to-suit unit occupied by DSV in Bucharest West, the Lufkin Industries Oil Field Division owner-occupied facility within Ploiesti West Park of approx. 35,000 sqm (in 3 main buildings), as well as the built-to-suit unit occupied by Schlumberger in Ploiesti West Park of 16,000 sqm, according Jones Lang LaSalle Romania data.
Another 144,000 sqm could be delivered in this year and the following one outside Bucharest, according to CBRE representatives. Some additional 77,000 sqm remain in planning phase due to lack of financing.
Read more in next week's print edition
Simona Bazavan