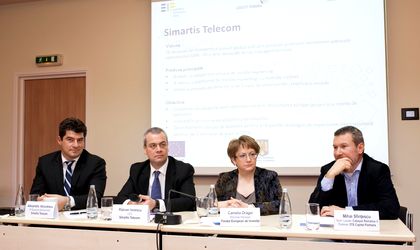 Private equity and venture capital fund Catalyst Romania, which invests in SMEs in the TMT (technology, media and telecom) sector, has announced it has taken over a 23 percent stake in Simartis Telecom through capital growth.
Simartis Telecom develops products and services for GSM operators. The most important product is Bubble, a mobile marketing and X-menu tool for promoting the services of GSM operators. In 2013, Simartis Telecom posted EUR 1.4 million in revenues.
"The partnership with Catalyst will help us become a global competitor. In the next period, we have ambitious plans regarding the development of the sales force and international support and the promotion of our solutions. We wish to boost our capacity to deliver projects simultaneously to multiple clients and help them benefit rapidly from our solutions. All these mean we must redefine the business model and the know-how that Catalyst places at our disposal is essential," according to Razvan Ionescu, CEO of Simartis Telecom.
Catalyst Romania, the first private equity fund dedicated to Romania, is financed mainly through the European Investment Fund (FEI) via the JEREMIE initiative, which is part of the Operational Programme 'Increase of Economic Competitiveness', co-financed via the European Fund for Regional Development.
Catalyst Romania invests between EUR 200,000 and EUR 2 million into local SMEs mainly in the TMT sector. Apart from FEI, via the JEREMIE program, which is the most important contributor to the Catalyst capital, the other investors in the fund are BT Asset Management (BTAM), a member company in the Banca Transilvania Financial Group, 3TS Capital Partners, as well as other private investors. The fund is managed by 3TS Capital Partners private equity and venture capital company.
3TS Capital Partners private equity and venture capital fund has operations in the region, with offices in Bucharest, Istanbul, Budapest, Prague, Vienna and Warsaw. 3TS invests mainly in technology & internet, media & communications, and technology services. The investments into the 3TS funds total EUR 300 million, made by FEI, EBRD, Cisco, OTP, Sitra, KfW and 3i.
Otilia Haraga