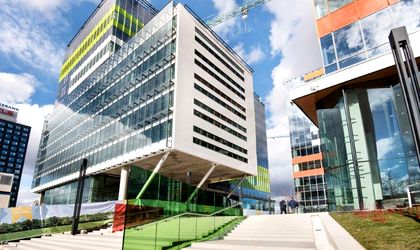 Project development and construction group Skanska signed a rent agreement with French retailer Carrefour Romania, for an area of 6,850 sqm in the second building of Green Court Bucharest. The new contract brings the B building an occupancy rate of 61.2 percent.
According to a press release, the deal was brokered by CBRE and Carrefour's headquarters relocation will take place in the course of this year. Moreover, over the same period, a Carrefour Market store will be opened in the aforementioned office building.
Approximately 500 employees will work in the new space in departments such as Procurement, Financial, Marketing and Logistics. Carrefour is an important tenant of the B building, alongside Sanofi and Adecco, which have already announced their relocation.
Green Court Bucharest is the first project developed by Skanska in Romania and consists of three office buildings with a total area of 52,000 sqm. The B building, which currently hosts Sanofi, Adecco and Carrefour, will have an area of 18,000 sqm in 12 floors overground and three levels of underground parking with 315 parking lots. The construction's completion is due in the second quarter of 2015.
Staff