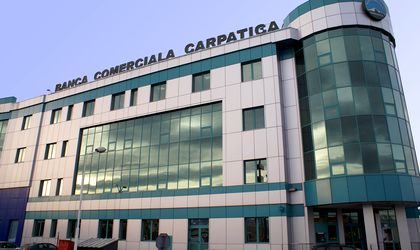 Carpatica Commercial Bank (CCB) will reduce capital by EUR 45.5 million (RON 204.49 million), taking them to EUR 24.5 million (RON 110.13 million), in order to cover losses registered. This drop will be followed by a stock release which will cause a capital increase of EUR 24.5 million.
The measures have been approved by bank shareholders on Thursday. The capital reduction will come into place on September 8 and the increase is scheduled to happen until November 27.
During the Thursday meeting shareholders also decided upon partial coverage of losses registered up to December 31 2014 from social capital and reducing the number of members in the Supervisory Council from five to three. Nextebank's proposal to merge with CCB was not analyzed, as the meeting members did not meet the majority required by the law in order to decide upon the matter.
CCB has recorded a profit of some RON 0.65 million during the first trimester of 2015, as compared to the same period of last year, when they had losses of almost RON 1 million. The bank is listed on the Bucharest Stock Exchange, and the most recent transactions were made at a price of RON 0.0407 per share, up 0.49 percent from baseline. At this rate, the bank's capitalization is EUR28.4 million (RON 127.4 million).
Natalia Martian