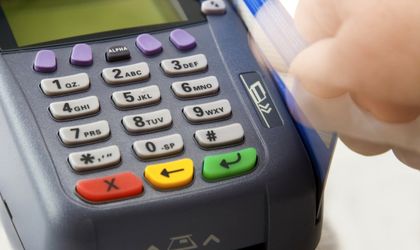 The number of Visa card payments at merchants (through PoS) made by Romanians increased by 22 percent in the financial year 2015, with all types of cards reporting growth of more than 20 percent for this indicator, according to a press release from Visa Europe. Overall, this increase was six times faster than that of cash withdrawals, showing that Romanians are not only paying more of their taxes by card but also other in-person purchases, while when it comes to online shopping, they prefer paying in cash upon delivery.
The average value of transactions at merchants continued to drop by 2.3 percent, in line with Visa's objectives, to fall under less than EUR 33, indicating a more frequent usage of Visa cards for everyday payments. "If cards in the 1990s were primarily used to withdraw cash, they are now more frequently used for payments in shops. More than two thirds of Visa card payments are under RON 100, indicating a habit of making card payments on a daily basis, even for smaller amounts," stated Catalin Cretu, subregional manager for Romania, Croatia, Malta and Slovenia at Visa Europe.
As for how card payments will evolve in the future, "contactless represents the next level for electronic payments in Romania as it allows for faster small value payments, and the 50-fold increase in the value of this type of transactions in the financial year 2015 is only the beginning of the success story for this technology," suggested Cretu.
Business cards, which are the second most important segment in the Visa portfolio, reported "double-digit increases for all indicators for the fifth consecutive year", says the Visa Europe press release. Visa Business cards portfolio increased 10 percent in 2015 and card usage improved both at POS (+22.3 percent for the number of transactions and +18.7 percent for the value of payments) and in total spending (+14.8 percent).
In the same year, the Visa card portfolio increased to 7.4 million units, in line with the trend for the core portfolio of debit cards, which experienced significant growth in both number of POS transactions (+22.2 percent) and value of payments (+19.1 percent).
At European level, Visa Europe now accounts for more than EUR 1 in every EUR 5.70 spent in Europe today, while the number of Visa cards issued in Europe stands at 522 million, i.e. more than one Visa card per adult, with PoS spending having risen by 7.7 percent in the last year (to EUR 1.58 trillion). Furthermore, Visa Inc. and Visa Europe announced in November a "definitive agreement for Visa Inc. to acquire Visa Europe, creating a single global community," according to the press release. The transaction is subject to regulatory approvals and is expected to close in Visa Inc.'s third fiscal quarter of 2016 (April-June).
Andreea Tint