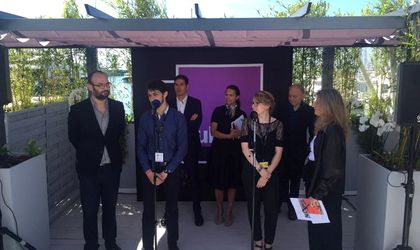 Prix France Culture Cinéma, the annual award given by Radio France Culture, was today taken by the Romanian director Alexander Nanau for his documentary film Toto and his sisters/ Toto si surorile lui. The award represents the best movie launched in French cinemas in the past year. The movie will be also available on DVD in France starting May 17.
Since April 2016, Alexander Nanau represents the Romanian Ministry of Culture in the General Assembly of SahiaFilm Cinema Studio, institution held by the Ministry of Culture. Furthermore, the Romanian director will be part of the documentary section jury from Sarajevo Film Festival.
Toto and his sisters
Synopsis: Ten year-old Totonel lives in the Ferentari ghetto in Bucharest. While his mother is serving a jail sentence for drug dealing, Toto and his older sisters Andreea and Ana share their lives with a host of uncles, neighbors, and drug users. Toto's only escape is a support center where he catches up on his spotty education – and hip-hop dance. His teenage sisters are themselves finding their way in life with varying degrees of success.
In 2015, Toto and his sisters was nominated at the Best Documentary Section at European Film Award and received US Cinema Eye Honors' Spotlight Award 2016. In one year and a half since its launching at San Sebastian Film Festival in 2014, Alexander Nanau's documentary was awarded with more than 30 prizes in festivals such as Sarajevo Film Festival, Varsovia International Film Festival, Leipzig DOK, Zurich Film Festival, Camden International Film Festival, Munich Open City Docs Fest etc.
Oana Vasiliu