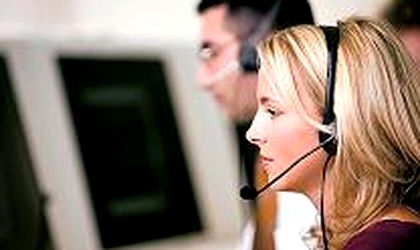 30,000 employees work in Romanian call centers and the BPO sector, Gregoire Vigreux, sales & marketing director of TELUS International Europe, recently told BR.
In the past 10 years, around 20 multilingual major call centers and BPO organizations have come to operate in Romania, finding here a large multilingual pool which they have drawn upon to serve millions of customers across Europe and the USA.
"The large pool of foreign language speakers in Romania is one of the country's main assets", Vigroux said in a blog post.
Given how attractive the sector is for young multilingual Romanians, BR spoke to a few call-center employees to paint a picture of their day-to-day activities.
1. Multi-stage interviews
Given the nature of the outsourcing industry and the services it offers, a job interview is never as easy as coming over for a more or less formal discussion at the company's headquarters. The first stage of the interview is always a language test, that may be in writing, over Skype or over the telephone.
Candidates that pass the language test, regardless of their score, will move on to the second stage where they meet with the Human Resources representative.
Once established that the candidate is an adequate foreign language speaker, the HR will establish if he has the necessary personality, attitude and diligence to get the job. The next step is meeting with the team leader and in some cases, a representative of the client-company.
The process can of course be sped-up if there is immediate need for staff.
2. Training is all about technical skills
Once hired, the training begins that last about two to four weeks. During this time, the new agent will receive a training consisting of 90% technical information and 10 percent lessons in interpersonal communication. The agent is expected to already know "how" to speak to callers and the only thing they need to know is "what" to tell them.
"They literally pump information into you for weeks", M., a Help Desk agent employed at Stefanini, tells us.
3. The shift work
Call center agents work in shifts and one of the Team Leader's main responsibilities is scheduling the shifts for all the members of the team.
"You never get used to switching shifts from day to night, but having a Team Leader that understands you really helps", according to M., the Stefanini employee we talked to.
Team leaders are responsible for teams of 20 to 40 agents. In CGS's case, 80% of Team Leaders are former agents that moved up in the ranks. A TL's main responsibilities include scheduling shifts, drafting reports, doing performance reviews, establishing bonuses and of course, motivating his team-members. They coordinate the activity of the team, but are still bound by company procedures and can't give to much leeway to their colleagues.
"We work on a plantation and our Team Leader is the boss. Some of them care more about the company, some care more about themselves and some care more about their team ", M. tells us.
The nature of the work doesn't allow for many conflicts to break out in the office, but when they do, more often than not they involve who gets to go on a break, who gets which shift and who gets to go on holiday at a particular time.
4. The more exotic the language, the higher the salary
According to A,, Team Leader for CGS, call center remuneration levels depend firstly on the language the employee works with, as well as the technical and negotiation requirements. In the first year on the job, income varies between the average national salary and EUR 1,500.
Generally, the best paid employees are the ones that speak Nordic languages and Dutch, followed by German speakers, Portuguese, central-European languages and lastly, English.
At HP, for French and English speakers the starting salary is RON 2100. However if you speak a Scandinavian language, the pay jumps to 2,800 and one of the most sought-after languages regardless of who is hiring is hebrew.
5. 1 in 20 calls is a pleasant conversation
When asked to talk about the relationship she enjoys with callers, M. is very frank:
"Most of them don't read what is on their screen if they get an error message and if they do read it, they don't know how to explain what the problem is. Furthermore, most of them don't understand one very important thing. I don't have any authority to do what they want me to do. I do not have the authority to solve their problem just like that. I can't give them back their money if they want it. I can't even take their money if I wanted to".
She estimates that maybe 1 in 20 calls can be described as a truly "pleasant conversation", where she gets to make small talk with the caller and solves the problem in a "timely manner".
6. There is always a language barrier
Regardless of how well they speak the language, there is always going to be a language barrier between call center agents and callers.
7. "Can I speak to your supervisor?"
If and when you ask to speak with an agent's supervisor, you will not get to speak to the Team Leader. The supervisor is another call center agent with a bit of extra experience and authority and maybe a salary that is 10 percent higher. If the problem is not serious, the supervisor will call you back at a later time to check on the matter, but will not step into the conversation right away.
8. SLA
SLA stands for "service level agreement". These are standards created by the organization outlining levels of service expected. Typical service level agreements include the number of calls answered within a specified time frame. It is the document that guides a call center agent's entire activity.
9. Quality check
An outsourcing firm usually has a department called quality assurance. The people working here monitor calls and job performances. Quality managers assign a score to each of the agents, which then is added to scores regarding the number of calls taken and the number of cases solved.
Team leaders make an average out of the three and the resulting score is used to award bonuses and give raises.
10. Show initiative but don't expect a promotion
The better and more appreciated you are, the more varied your tasks will be which helps with the routine. Going from 1st level support to 2nd level support or further (3rd or 4th level support) would be very difficult since there is no way to move upward until somebody quits their job.
"This is not the kind of job where you can grow roots. Unless you're incredibly determined and you wait for a higher position to become available.", M. says.