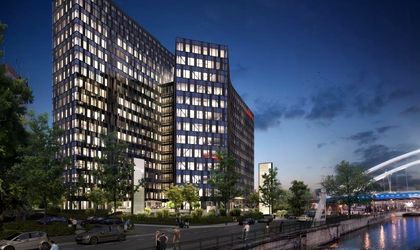 Investment fund CA Immo has appointed PORR Construct as main contractor for the Orhideea Towers, a 37,000 sqm office project near the Grozavesti metro station, according to a statement by the developer.
Construction on the project has started in October 2015, with foundation works by Octagon Contracting & Engineering, and is ready to move into the next phase in March this year. Investment will reach EUR 75 million and the two office buildings are set to be delivered in 2017.
Orhideea Towers will comprise two office buildings of 13 and 17 floors above ground and two underground storeys. The buildings will be connected through a deck with fused glass surfaces and carpet areas will reach up to 2,700 sqm per floor. This will be the first project the developer has built from the ground up in Romania, and after completion it will stay in the company's portfolio.
CA Immo is an Austrian investment fund active across Europe's office market, founded in 1987. It is present in Austria, Germany, Hungary, the Czech Republic, Slovakia and Romania. Locally the company has a portfolio of five office buildings, Opera Center 1 and 2, River Place, Europe House and Bucharest Business Park, totaling a GLA of 106,000 sqm.
PORR Group is an Austrian developer with branches across the Central, Eastern and South-East Europe, employing 14,000 people. The company, posting a turnover of some EUR 3.9 million, is present locally since 2004.
Natalia Martian