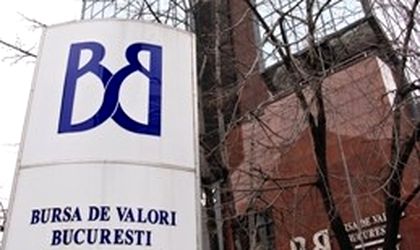 Bucharest Stock Exchange (BVB) net profit increased by 25 percent in 2014 to RON 11.9 million (EUR 2.7 million), having been supported by the value of transactions' increase, which raised the turnover by 11 percent.
Compared to the budgeted level, the reported profit is 20 percent higher. In 2013, the net income was RON 9.48 million (EUR 2.13 million).
BVB turnover was higher by 11 percent and reached RON 26.9 million (EUR 6 million), the advance being determined by the increase of the trading value, but also by the increase of the revenues coming from fees charged to issuers and participants, as well as from IT services, shows BVB preliminary financial report for last year.
BVB operating expenses rose by 3 percent to RON 16.75 million (EUR 3.8 million), while operating incomes rose 14.2 percent to RON 27.88 million (EUR 6.28 million), according to Mediafax.
The value of transactions with shares on all the markets managed by BVB rose by 14.1 percent last year to RON 13.2 billion (EUR 3 billion), while only for the shares regulated market the growth was by 15.2 percent.
Andreea Marinas