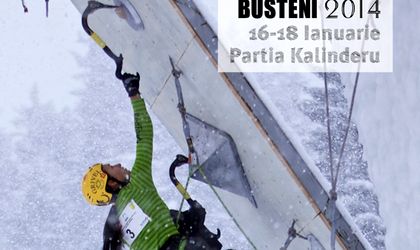 The second stage of the World Ice Escalade Cup circuit has started on January 15 at the foot of Kalinderu slope in the resort of Busteni with over 80 sportspeople having announced their participation so far.
According to Agerpres newswire, the competition will be held on 25-metre-high artificial structures, partially covered by ice, with the structure for the difficulty event being considered by some top climbers among the toughest in the world.
The contest has two events, speed and difficulty, each taking place on two categories: men and women.
Entered in the competition so far are more than 80 climbers from countries such as Azerbaijan, Bulgaria, Canada, Czech Republic, Korea, Switzerland, France, Iran, Italy, Japan, UK, Russia, Slovenia, the USA, Ukraine and Romania.
The first stage of the competition was held in South Korea, and the following ones will be held in Switzerland, France, Italy and Russia. The event takes place until January 18 and it is organized by the Romanian Alpine Club, the organizer of the event, together with Busteni Town Hall and the International Union of Alpinism Associations.
Oana Vasiliu