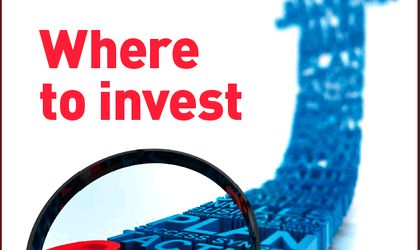 Business Review has launched the Where to Invest Guide, a 60 pages booklet featuring analyses on the industries that are capturing the interest of foreign investors in the local economy.
The guide features two parts: the first one groups industry analyses on sectors such as energy, infrastructure, online, real estate, retail or tourism, while the second gathers opinions from top chambers of commerce and commercial departments of embassies in Romania. Those featured in this guide are AmCham, the German-Romanian Chamber of Commerce and Industry (AHK), the Embassy of Austria, the British Romanian Chamber of Commerce (BRCC), the Chambre de Commerce, D'Industrie et d'Agriculture Francaise en Roumanie (CCIFER), the Embassy of Greece, the Camera di Commercio Italiana per la Romania (CCIpR) and the Romanian South African Business Association (ROSABA)
Apart from the featured industries and contributions, readers of the guide can also find an interview with James Hyslop, the EBRD's director for Romania, talking about the bank's plans for the Romanian market.
The guide is available to Business Review subscribers and through selected distribution channels: chambers of commerce, embassies and hotels.