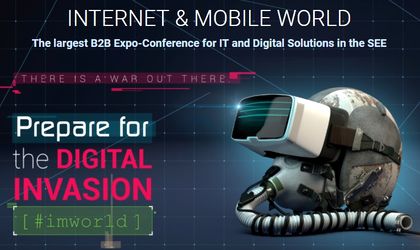 Business Review, the Bucharest-based publication comprising online, print and events operations, will be the exclusive media center partner at IMWorld 2017, the largest B2B conference expo-conference for IT and digital solutions in the SEE, which takes place on October 4-5 at Romexpo in Bucharest.
Business-Review readers can access two types of free passes:
Digital Starter Pass, use the registration code: PMBR100AN
Digital Architect Pass, use the registration code – PMBR100A
Activate one of the codes on www.imworld.ro/tickets in the last registration step and when you complete the registration path, you'll receive a code on your email. Bring it with you on October 4th and you'll have access to 2.000+ tech solutions and know-how of keynote speakers.
As part of the strategic agreement, BR journalists will have exclusive video interviews and host panels with key international and local speakers about the digital transformation, which is quickly becoming a strategic development pillar for businesses across the globe.
The moderator of the discussions in the media center will be Ovidiu Posirca, senior journalist at Business Review.
Business Review is one of the most relevant English language content providers for the business sector in Romania, bringing together foreign and local investors, public and private sector key players, in a bid to outline business trends, constantly striving to keep the public informed on key matters. Through its exclusive analysts, interviews and events, Business Review is the go to source for readers interested the dynamics of the Romanian economy.
At the sixth IMWorld, in addition to the five major stages – Main Stage, SMBs & Enterprise Solutions, Development, Digital & E-Commerce, Marketing & Innovation – the organizers inaugurate the Cyber Security Stage, which will cover through the experience of international & local speakers, more than 10 hot topics in Data Security, including Data Security Software, Trends Cyber Attack, IoT Security Products, Cybercrime etc.
This year's IMWorld will have four exhibition areas with 130 companies that will showcase 2,300 digital solutions. There will be over 8,500 business visitors, of which 3,000 C&O Level. At the sixth edition of IMWorld you will find key representatives from 25 industries.
"IMWorld generates practical value being an active contributor to the development of the economy, matching specialists with the need for digitization. There are still many business areas that have not yet experienced the digital revolution, and one of the main objectives of this edition is to facilitate their access to it", said Alexandru Maxineanu, project manager IMWorld.
Key speakers already confirmed at IMWorld 2017
If you work in advertising, communication or any related marketing industry, you may want to come to IMWorld 2017, where Sergio Spaccavento, a famous italian speaker is going to feature a session about how "Sex sells, but humor sells more".  Spaccavento is a multi-talented advertising Executive Creative Director, a Tv/RadioShow &Cinema Screenwriter, a Speaker and Lecturer. And definitely a mythomaniac. The Italian speaker started his career doing proper advertising, then he fell in love with new and alternative media – found out that fun is mixing it all together.
If Spaccavento is going on Marketing Innovation Stage, three women with brilliant careers have already confirmed their presence on the Main Stage of IMWorld 6th edition.
One of the keynote speakers Ghislaine Boddington is reader in digital immersion at University of Greenwich focusing on realtime virtual/physical blending, and presents bi-weekly for BBC Click World Service Radio.
Nicoletta Iacobacci is ethics hyperleader in Hyperloop Transportation Technologies, the American research company formed using a crowd collaboration approach to develop a transportation system based on the Hyperloop concept, which was envisioned by Elon Musk.
Another international trend expert is Cécile Cremer, who says she has a special talent: she is passionately curious. Cécile Cremer is the ambitious founder of the Wandering the Future, a trend and innovation agency in pursuit of unfolding tomorrow today, and help companies understand and act on the future and its needs.
Christian Rangen is a strategy & innovation advisor to management teams and companies around the world. He helps companies on how to face disruption, design new business models and succeed at strategic transformation.  He is also business school faculty and teach a series of executive programs on corporate innovation, digital disruption and digital business model transformation.  And he's expertize does not stop here.
In Bucharest, on the Main Stage of IMWorld, his session will answer to these questions: "Is your strategy ready for the future?  The world of strategy is changing. How is your company able to keep up?"
Dan Haywood is an independent consultant, architect and developer, best known for his work on domain-driven design and the naked objects pattern.
On IMWorld's Developers Stage, Dan Haywood will talk about "Thinking outside the Box – why you should build, not buy". Dan Haywood is going to explore this approach with real-world examples and use cases so you can see for yourself how you, too, could find a better way to deliver effective and adaptive IT into your company.
Alex Soto is a senior software engineer at Red Hat, specializing in enterprise technologies, test automation and continuous delivery based on the Java platform. He has over a decade of experience in the Java world, yet continually renews his skill set by learning new aptitudes and technologies every day.
On the Developers Stage at IMWorld, he will talk about Testing for Unicorns.