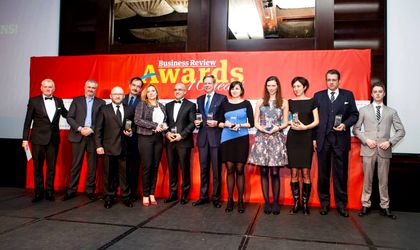 Business Review organizes the 11th edition of its Business Review Awards, an event celebrating remarkable results and projects of 2015. Winners will be announced during an award gala reuniting over 200 representatives of the business medium: investors, top managers, entrepreneurs, diplomats and public authorities.
The event will take place on February 23rd at Radisson Blu hotel in Bucharest and will look at players from 12 categories:
– Community Involvement
– Online Strategy for Business Development
– Innovation in Technology
– Best Start-Up Supporter
– Best Turnaround Strategy
– Best Employment Initiative
– Young Entrepreneur of the Year
– Deal of the Year
– Business Leader of the Year
– Excellence in Business
– Best SMEs Financing Line Program
– Best International Expansion
An independent jury has been formed to propose, evaluate and choose winning projects based on a series of objective criteria specific to each category. The judging process has started on January 26th by the jury composed of:
– Fady Chreih, CEO, Regina Maria
– Cornel Marian, Managing Director, Oresa
– Razvan Iorgu, CEO, CBRE
– Peter Barta, CEO, Post Privatization Foundation
– Sergiu Negut, Associated Dean, Maastricht School of Management
– Omer Tetik, CEO, Banca Transilvania
– Silviu Stoica, Partner, Popovici Nitu Stoica si Asociatii
– Carmen Peli, Partner Peli Filip
– Florin Godean, Country Manager, Adecco Romania
– Kostas Loukas, Country Manager, Microsoft Romania
– Anamaria Mihaescu, Regional Manager, IFC
– Hortensia Nastase, Vice-president, Lowe Group
"We are very happy and grateful to these distinguished representatives of the business environment in Romania that have accepted our invitation to be part of the jury and decided to dedicate their time and considerable effort to the judging process to ensure the integrity and relevance of a gala such as Business Review Awards. Every year since 2005, we have taken not only a mission of identifying and rewarding truly remarkable projects or businesses, but also to share with the readers and community around Business Review which were the strategies, investments and the steps that led to success, in the hope that their example will be followed. We thank the jury members that have joined this mission and look forward to find the winners of this edition," stated Oana Molodoi, business development director of Business Review.
Details about the judging criteria and categories are available on www.business-review.ro/br-events. The list of nominees will be published on the event dedicated page and this step will allow for self-nominations: any company that meets the eligibility requirements specific to each category will be able to enter the competition, followed by an evaluation of the provided information by the jury.