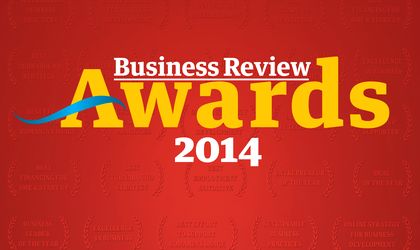 Over 200 representatives on the business community attended, last night, the ninth annual Business Review Awards Gala, which recognized the outstanding achievements of companies and entrepreneurs that stood out from the crowd last year.
Mr. Colin C. Lovering, MD of Achieve International, director of BRCC and Master of Ceremonies for the evening, kicked off the event and underlines that he's gotten used to hosting it by now.
Here is the complete list of the awards presented on Thursday night.
Sustainable Business Practices
Holcim Romania
Online Strategy for Business Development
eMag
Innovation in Technology
MB Telecom
Best Start-up Supporter
Junior Achievement Romania
Best Financing for SME&Start-up
Banca Transilvania
Best Turnaround Strategy
Diverta
Ilinca Paun, elected president of the Jury, presented the award for "Best Turnaround Strategy". She also explained that Hidroelectrica was one of the nominees based on its performance last year. When the nominee list was drafter, Hidroelectrica hadn't reentered insolvency.
The state-owned company recorded a gross profit of RON 399 million (EUR 90 million) in the first five months of 2013, from a loss of RON 190 million (EUR 42 million) in the same period of the year before. Meanwhile, the turnover gained 22 percent to RON 1.2 billion (EUR 270 million) in the same period.
Best Employment Initiative
HP Geboc
Entrepreneur of the Year
Felix Patrascanu, Fan Courier
Deal of the Year
Romgaz, IPO
Business Leader of The Year
Xavier Piesvaux, Mega Image
Excellence in Business
Dacia
The award for Excellence in Business was presented by Princess Marina Sturdza, who took the time to thank Business Review for their efforts to promote real, authentic and valuable companies.
"When you leave here, I hope you can leave with a sense of accomplishment and confidence, because that is what I see when I look at you", Princess Marina said.
Want to find out more about the other nominees?