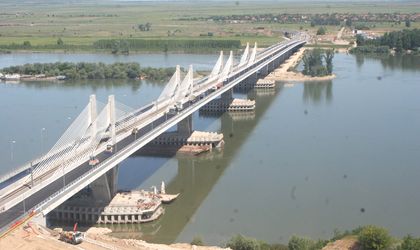 The third bridge between Romania and Bulgaria, over the river Danube, will cost between EUR 200 and EUR 270 million, according to feasibility studies quoted by Novinite. The exact position of the bridge will be selected out of four possible locations over the next two months.
The four options are Oriahovo-Bechet, Silistra-Calarasi, Ruse-Giurgiu and Nikopol- Turnu Magurele, according to Bulgarian officials. Each of the four locations have already been studied as feasible options by a Romanian firm called Transproiect 2001.
In the second phase of the research necessary, the involved parties will discuss the possibility of building a railroad track and the target price for construction, according to Elean Gagov, expert in the Bulgarian Ministry of Regional Development.
Romania and Bulgaria aim to connect some of their poorest regions by bridges over the Danube in order to attract new investors with as many bridges as possible. Gagov said the European Union will have to provide part of the financing necessary.
There are two bridges already connecting the two countries over the Danube: Ruse-Giurgiu, which according to unofficial date is crossed daily by over 1,000 trucks and Vidin Calafat – 500 trucks.