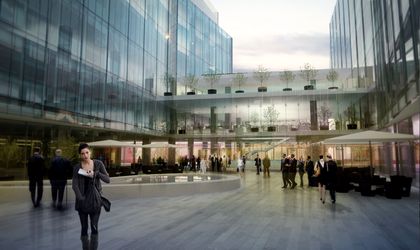 In the first quarter of 2013 some 71,000 sqm of office space were delivered in Bucharest, a figure approximately equal to the total volume delivered 2012, according to a DTZ Echinox report. This was the most active quarterly construction activity recorded since Q4 2010, said DTZ Echinox representatives.
At the end of Q1 2013, the total office supply in Bucharest reached approximately 1.997 million sqm, according to the latest DTZ Property Times Offices – Romania report. The new supply delivered in the first three months of 2013  included large scale office projects such as Sky Tower (41,000 sq m), and Floreasca City Center (16,000 sq m) developed by Raiffeisen Evolution in northern Bucharest and the addition of a new phase (H5 building) to the West Gate project, located in western Bucharest and comprising 14,000 sqm.
Bucharest office market – key indicators for Q1 2013
| | |
| --- | --- |
| | |
| Stock as at Q1 2013 (sq m) | 1,997,000 |
| Q1 Net take-up (sq m) | 39,650 |
| Q1 Gross take-up (sq m) | 59,800 |
| Q1 New supply (sq m) | 71,000 |
| Vacancy rate (%) | 16.6 |
| Prime rent (EUR/sqm/month) | an average of EUR18 |
Source: DTZ Research
Net take-up volume up 70 percent against Q4 2012
The net take-up volume (comprising new lease transactions, preleases and expansions) registered during Q1 2013 reached approximately 39,650 sqm, out of which around 80 percent were represented by relocation transactions. The net take-up reported for Q1 2013  was down by 14 percent y-o-y but up 70 percent over Q4 2012. Only 7 percent of the total Q1 net take-up volume was represented by pre-completion transactions.
The centre – west and the centre –north part of Bucharest gained the largest share of the quarterly net take-up volume.
Given that the net transactional activity registered at the end of 2012 was of around 155,000 sqm, for the end of 2013 DTZ Echinox forecasts a level slightly above the one registered last year, reaching a maximum of 170,000 – 180,000 sqm.
An increased quarterly supply coupled with a relatively low volume of net take-up meant that at the end of Q1 2013 the vacancy rate reached 16.6 percent. This represented a significant increase against the same period of 2012 when the vacancy rate stood at 13.4 percent, respectively a figure up by 10 percent against Q4 2012. Northern Bucharest had the highest vacancy, while the lowest ratio is currently the centre–north area (Floreasca – Barbu Vacarescu) which enjoys the highest prelease activity and demand.
Headline rents at EUR 18 per sqm 
In 2012, a marginal increase in headline rents was tracked in the city centre and the central – northern area. This has been due to an increase in demand driven mainly by the prelease activity in these areas and subsequently by a decrease in the vacancy rate for office buildings located in the respective submarkets, according to DTZ Echinox.
In Q1 2013, headline rents are reaching a monthly level of around EUR 18 per sqm for the central areas. For the semi-central locations the rental level ranges between EUR 13–16 per sqm , while a lower level of around EUR 9–12 per sqm per month was reported for the decentralised business districts.
For 2013 year-end DTZ Echinox estimates a constant rental value for Bucharest business districts with premium locations remaining at an average monthly level of EUR 18 per sqm.
Simona Bazavan