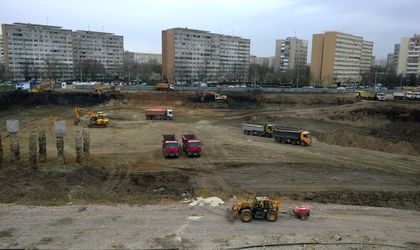 Sonae Sierra is confident that over the next months it will secure the necessary financing for the EUR 180 million ParkLake Plaza shopping mall it is developing in eastern Bucharest in joint venture with Caelum Development.
Simona Bazavan
"I am much more relaxed now than I was three months before (…) because I smell concrete and I could convince my board to start this project although not everything was 100 percent ready in the beginning," Ingo Nissen, managing director of Sonae Sierra in Romania told a press conference this Tuesday.
The EUR 180 million ParkLake shopping mall located in the Titan neighborhood in Bucharest should be completed in 2016, some nine years after it was first announced. Why start the project now? The economic context is improving, there is a sustainable growth perspective and after Sonae Sierra completed other projects it had in the pipeline elsewhere in Europe, ParkLake is now next in line, explained Nissen.
And this time around works are on schedule, with the infrastructure part of the 70,000 sqm GLA project – which was contracted to Soletanche Bachy Romania – set to be delivered in August. Over the next weeks the developers will hold the tender for structure works, said Nissen.
Also, the developers are confident that over the next months they will secure the necessary bank loans to complete works. "We would have never started works if we would not have been so confident that we will get it," explained the MD.
He added that the context is not yet favorable to "big loans of 80-90 percent. But we will get loans. We are in quite advanced negotiations with the banks, we are discussing the contract and hopefully within the next months we will close it," he added. Without giving details about the project, Nissen said that "usually, right now external financing represents 50 percent if not below" of the total investment, the rest being private equity.
The EUR 180 million investment required for the project includes the price of the 8.2 ha plot of land on which it is built on and which was acquired in 2007 for some EUR 55 million according to local media reports. Subsequent litigations regarding the land were one of the reasons the project was postponed.
Eastern Bucharest is getting crowded
ParkLake Plaza wants to attract at least some 12 million visitors per year after completion. It will feature 200 stores and some 60 percent of the 70,000 sqm GLA is already leased, according to the developer.
The project is located on the Liviu Rebreanu Blvd, near the IOR Park and it is not the only shopping center currently under construction in eastern Bucharest, an area where the only other modern shopping mall so far is Bucharest Mall opened by Anchor Group in 1999. Nearby, NEPI is set to complete Mega Mall – a shopping mall of a similar size with ParkLakePlaza – in 2015.
However, Nissen says the competition is not a problem. ParkLakePlaza's immediate catchment area is 180,000 people which "is enough for a shopping mall its size". "When you go and do a development in a country like Romania – and by this I mean that there are countries where there is more difficult to get a building permit – you have to assume that sooner or later that competition is coming. So I do not fear this competition. I think we have done a very good design, a good layout and given the theme we have chosen and our tenant mix, I would say we are ahead of what is the usual quality of a shopping center here in Romania," he said.
Read more in next week's print edition