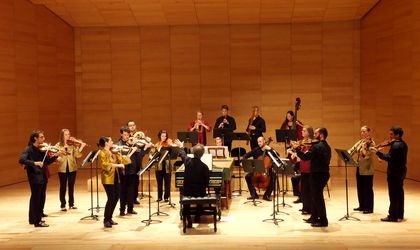 Bucharest Early Music Festival
Until November 28, Radio Hall, Bragadiru Palace, Cotroceni National Museum, Museum of the Romanian Peasant, the Anglican Church, and the Fire Tower
The present edition, a jubilee one, is broader and more complex, in comparison with previous ones as it is held under the High Patronage of Romania's President. The festival counts 14 events, with the participation of artists and ensembles from over 10 countries.  On the stages of the festival, you will be able to listen to instruments like the triple harp and the gothic harp, the lute, the theorbo, the renaissance guitar, the harpsichord, the baroque violin, the Vielle, the spinet or the viola d'amore. For the first time in Romania, the festival will host a viola organista concert, an instrument designed over 500 years ago by Leonardo da Vinci and brought to life by the polish pianist Slawomir Zubrzycki. Tickets are available from the Eventim network.
National Theater Festival
October 23 – November 1
Over 98 performances will take place during the National Theater Festival, gathering 17 performances from Bucharest, 26 national productions and three international shows:  Front, directed by Luk Perceval, The War, directed by Vladimir Pankov and Sofia Jupither's Tiger. The event will celebrate its 25th anniversary of excellence in theater, resumed by Ion Caramitru, the director of the Bucharest National Theater. Tickets can be bought online from www.eventim.ro at prices ranging from RON 18 to RON 110.
Counting stars
October 31, Bucharest's Astronomy Observatory
How many stars does the sky have? is the event that the Bucharest Astronomy Observatory proposes for the public. The event is a presentation and observation of the number of stars in the universe. For this purpose, participants will be introduced to an astronomy program and a database of actual astronomy observations. Participants will get the opportunity to see what the sky looks like with and without a telescope. They will also get to see a collection of celestial objects observed so far by astronomers.
Gaudeamus Book Fair
November 18-22, Romexpo
At its 22nd edition this year, the book fair will have as guests a group of francophone embassies, delegations and institutions GADIF.  A book exhibition and a literary café at the same time, the fair gathers over 650 cultural events per edition. With over 100,000 visitors per edition, the fair accommodates within 14,000 sqm some 400 Romanian and foreign publishing houses, printing companies, educational institutions, cultural centers and institutions, and libraries.
Tatiana Lazar