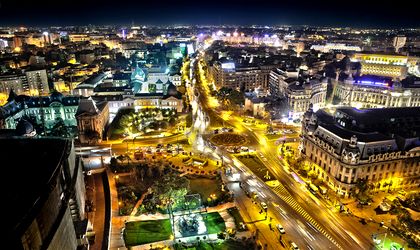 Every language has its share of untranslatable expressions or words, and the Romanian language is no exception, with its "sun with teeth" (soare cu dinti) expression. During this period, it's easy to be fooled when looking out the window, be tempted to throw on your lightest jacket and a silk scarf and walk triumphantly out the door, just to be bitten on the nose by the harsh, cold wind. That is a "sun with teeth": a grinning sun, luring you out of your winter hiding, just to freeze up extremities.
However, now that we have exposed the fraud, one can go out prepared and enjoy the wide range of events taking place this weekend!
One of them is BIEFF, a film festival which debuted on March 14 with a full house, and promises a weekend full of surprises, from Peter Greenaway's Eisenstein in Guanajuato premiere, to Rebel With a Cause – a section for high school students, to Golden Shorts: Best Films in Major Festivals – a projection-event at the National University of Music Bucharest.
Friday evening, at 20:30, the National University of Music will present the special program Cinedans Amsterdam: Of Love and Other Demons. On Saturday (15:00) and Sunday (12:00), the section dedicated to high school students will offer shorts projections at Cinema Elvire Popescu, free of charge. The Golden Shorts section, taking place Saturday (20:00) and Sunday (19:00) at the National University of Music, will bring forward award winning shorts.
For festival goers who enjoy out of the box events there is HomeFest, an artistic movement reuniting local and international artists who present their art inside living spaces across the city. The event attempts redraw the map of Bucharest and mark points of cultural interest in its blocks and neighborhoods. From Rahova to Grozavesti or Vitan, the festival crosses the city far and wide, visiting apartments open to culture and neighbors. The full program can be accessed here (in Romanian).
This evening Cargo has a special concert launching its DVD Cargo Live la Arenele Romane, including 8 representative songs from a band's concert held at Arenele Romane and bonus tracks which are not found on any of their albums. The event takes place at Arenele Romane, at 20:00, and tickets cost between RON 35 and RON 70.
For those who don't necessarily enjoy rock music and would rather listen to opera, the National Opera of Bucharest is hosting Aida this evening, with tickets ranging from RON 6 to RON 55.
On Saturday the National Theatre of Bucharest offers two comedies and a drama, with tickets ranging between RON 20 and RON 60, while the National Opera brings to its stage La Boheme.
For a more "freestyle" evening, the ARTea teashop offers an improv show to any adult "wishing to take a break from the role of the responsible, serious grown-up".
Sunday combines poetry with music, a lot of theatre and a pinch of ballet, a boom of culture to soothe the soul and prepare the mind for the coming week.
So get out your hats and warm scarves, put on a smile to shame the grinning sun, and enjoy the weekend Bucharest has to offer!
Natalia Martian
Photo courtesy Serban Aurel