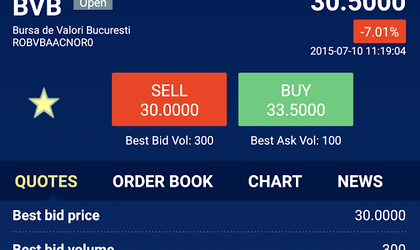 Bucharest Stock Exchange (BVB) announced the launch of the BVB Trading App, an online trading application for investors who want to actively manage their portfolios and keep up with the market. The app is available free of charge in Google Play and App Store to clients of brokers offering Arena XT platform, the Direct Market Access Service provided by BVB.
The application is also offering full market depth for all instruments traded at BVB, a complete set of tools to support the trading activity and real-time updates for market data and trading operations (portfolio, full operational logs, historical data and charts).
Using the same technology as of the main trading platform, Arena, and having the trading platform servers collocated close to the BVB matching engines, BVB Trading App offers the highest speed of online trading at the Bucharest Stock Exchange, available on the go.
With the launch of BVB Trading, investors at Bucharest Stock Exchange can now experience all the array of tools to access the trading of the financial instruments listed at BVB, on all devices, starting from Windows PC application, going to web application and ending with iOS/Android smartphones dedicated software.
Brokers currently offering their clients Arena XT Platform are: Estinvest, Goldring, Intervam, Muntenia Global Invest, Oltenia Grup Invest, Romcapital and SSIF, Vienna Investment Trust, while Supergold Invest, Interfin Brok and Prime Transaction are in the final stage of implementing this service.
Bucharest Stock Exchange runs markets for shares, bonds and other instruments, through regulated platforms and alternative systems, and provides a wide range of services to participants of financial markets. It is a public company, listed on its own market since 2010.
Natalia Martian