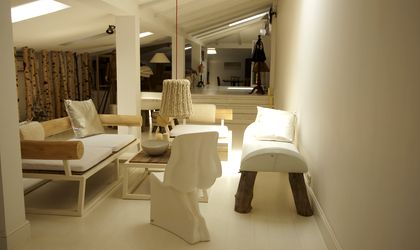 It's nearly Christmas and Bucharest is already panic shopping. But don't worry, BR is on hand to help you navigate the festive retail maze. Over the following pages, you will find our selection of the best places to do your Christmas shopping, from local designer fashion boutiques, through to traditional Christmas fairs, upmarket delicatessens and multi-language bookshops.
Oana Vasiliu
Atelier Anda Roman
Creativity meets a passion for beauty at this concept store, housed in an innovative, avant-garde space. Atelier Anda Roman is a subtle blend of innovative design, where items "converse and create emotions", to produce creative living rooms, dining rooms, bedrooms, children's rooms, office spaces, kitchens and even bathrooms. With products sourced from France, Belgium, Holland, England, Italy and even local producers and antique markets, the boutique showcases furniture, decorations, toys and fabrics, everything served with a green tea, coffee or gingerbread.
42 Grigore Alexandrescu Street
Cadolines
The shop was recently launched in Romania, bringing together dedicated brands for luxury presents. Most materials used are tin and china,  everything wrapped up in details and beautifully hand engraved. Vases, candle stands, bowls, photo frames, coffee caddies, oil lamps, coasters, trays, jewellery boxes, platters, zodiac signs, glasses and many other exquisite products are waiting to be discovered.
Mario Plaza, Baneasa Shopping City, www.cadolines.ro
Dizainar
This store offers a wide variety of designer products for those interested in decorating homes and offices with Romanian-made pieces of art. Dizainar's portfolio is comprised of over 200 pieces from furniture, lighting, clocks and graphics to personal accessories, decorations, toys, glassware and ceramics which come from more than 130 designers.
17 Putul cu Plopi Street, www.dizainar.ro
Iconic Food Wine & Design
With a focus on classic, high-quality design, this airy and minimal outlet is nonetheless unselfconsciously warm and friendly. Housed in a discreet and elegant villa in the Aviatorilor area, this is a space where passion for aesthetics and rules of style prevail. Choose from unique interior design objects, gifts for the home, fashion and beauty items, wine and gourmet foods and, last but not least, a selection of books and magazines dedicated to relaxation. The showroom includes brands that are available in Romania for the first time, such as Fornassetti, Ingo Maurer, Palucco, Edra, Jars Ceramics, Lara Bohinc, Uncommon Matters and Hermes Vintage.
7 Aleea Alexandru, near Victoriei Square. www.iqonique-cs.ro
Pierrot
Interior and garden ornaments, gift ideas and Christmas decorations all under one roof. This store stocks beautiful objects, carefully put together and inspired by various traditions. They bear the names of famous interior design companies from Italy and Germany such as Wald, Shan, Hoff Interieur and Drescher, found exclusively at Pierrot. The product range is wide, running from porcelain from the exclusive Villar collection, inspired by Italian baroque, to affordable products, both contemporary and traditional. The store is a rich source of gift ideas from scented candles and Swarovski crystals to traditional Christmas decorations.
1 Intr. Biserica Alba. www.pierrot.ro
Mesteshukar ButiQ (MBQ)
Mesteshukar ButiQ(MBQ) is a network of social economy enterprises aiming to revalue traditional Roma craftsmanship. The pieces are made with clean raw materials, craftsmanship passed from generation to generation, skillful hands and an immediate major utility. Most of the products are copper made, designed by Roma craftsman Victor Clopotar together with the Viennese designer Nadja Zerunian.
7 Edgar Quinet Street, www.mbq.ro
Petalia Christmas decorations
At Christmas, we sing about the holly and the ivy, and shoppers who wish to add some floral color to their festive celebration, either at home or at the office, will find it here. Special Christmas arrangements express glad tidings for a joyous holiday season with a bounty of blooms.
Online orders at www.petalia.ro
Floria
Picture this: bright red carnations which create a splash of color on a bed of white cushions, nestled in a clear glass vase, tied with a scarlet red holiday ribbon and adorned with candycanes or other Christmas decorations. Did you like it? Then you can order it from Floria.
Online orders at www.floria.ro
Here are our other lists of shopping sites ideas: Romanian designer goods, souvenir shops, Christmas fairs, bookshops, festive food and drink, wine and dine.