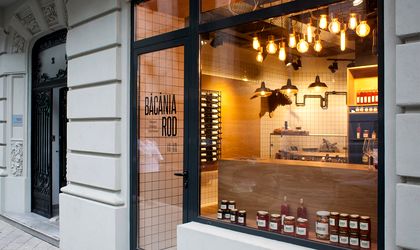 It's nearly Christmas and Bucharest is already panic shopping. But don't worry, BR is on hand to help you navigate the festive retail maze. Over the following pages, you will find our selection of the best places to do your Christmas shopping, from local designer fashion boutiques, through to traditional Christmas fairs, upmarket delicatessens and multi-language bookshops.
Oana Vasiliu
Bacania cu suflet
The shop was created in order to bring to Bucharest some of the traditions and goodies from Bucovina and Maramures, two parts of Romania where food is naturally preserved and the recipes are passed down from generation to generation. Jams, meats and cheeses, homemade cakes and chickpea-made coffees are the best selling products in the shop. Quality wines and traditional strong liqueurs can also be found here, as well as local handmade interior design accessories.
11 Salcamilor Street, www.bacaniacusuflet.ro
Bacania ROD
Located behind the Romanian Athenaeum, Bacania ROD seems more like grandma's goody room, a place where all the jars are nice looking and everything is perfect arranged. The owners bring the natural vegetables for the products from Valcea county, where a family cooks the goodies in the traditional way, and cheese and meat products are brought in from small farms.
2 Mendeleev Street.
Bacania Veche
The owner says that this grocery store aims to offer food with a story. The shop sells traditional Romanian meat, dairy products, wines, all sorts of preserves, in-season fruit and vegetables, unconventional kitchen implements, baked goods, as well as international products – all under the motto "no preservatives, no colorings or other chemical additives".
49 Barbu Vacarescu Blvd. www.bacaniaveche.ro
Camera din fata
Among old family pictures, thousands of pots with flavored tea, cups of coffee and, of course, coffee bags, visitors are transported back in time, as Camera din fata is inspired by grandparents' houses. There is also a selection of related gifts: mugs, cups, tea services, tea kettles, espresso machines and even homemade goodies such as jams and fruit syrup.
22 Mendeleev Street, near Romana Square
Boutique Comtesse du Barry
Upmarket delicatessen that brings a little French gastronomic savoir faire to Bucharest. All manner of edible and drinkable treats await, including smoked salmon, caviar and posh chocolates, not to mention a range of wines. If you have foodie friends and money to spend, you could do all your Christmas shopping here. Another outlet can be found in Baneasa Shopping City.
2-4 Episcopiei Street. Baneasa Shopping City 1st floor, 3 Mircea Eliade Blvd. www.lemanoir.ro
Leonidas
The famous Belgian praline – a chocolate layer covering a soft fondant center – is best known in Bucharest thanks to Leonidas, a world-renowned chocolate maker, which sells over 100 different kinds of Belgian chocolate through 1,400 outlets around the world. To mark the winter celebration, over 20 different Christmas chocolate figures can be beautifully wrapped and put under the Christmas tree, for those with a sweet tooth. On top of that, tea lovers can purchase Tea Forte special collections, such as Winter Spice Teas, the seasonal recommendation.
35 Calea Dorobantilor. www.pralinebelgiene.ro
Here are our other lists of shopping sites ideas: Romanian designer goods, souvenir shops, Christmas fairs, unusual home ware, bookshops, wine and dine.