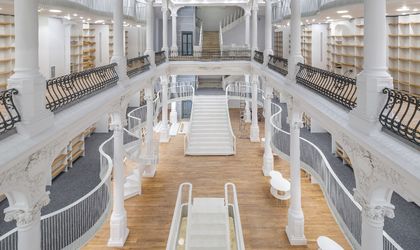 It's nearly Christmas and Bucharest is already panic shopping. But don't worry, BR is on hand to help you navigate the festive retail maze. Over the following pages, you will find our selection of the best places to do your Christmas shopping, from local designer fashion boutiques, through to traditional Christmas fairs, upmarket delicatessens and multi-language bookshops.
Oana Vasiliu
Anthony Frost
Tucked away opposite the Kretzulescu Church, this little place has now been impressing local bookworms for several years now. Open until 8pm on weekdays and with a central location, Anthony Frost is a good spot to pick up gifts for friends and family after work in one fell swoop, as its extensive stock runs the gamut from children's stories to the latest literary sensations.
45 Calea Victoriei. www.anthonyfrost.ro
Carturesti
The capital's premiere book concept store, this multi-functional location –  also a teahouse and a coffee shop – has the largest book, music and film ranges on the market. Currently, it is also hosting a high-end gift fair.
13-15 Arthur Verona. www.carturesti.ro
Carturesti Carousel
The revamped Chrissoveloni House in Bucharest's Old Town has been hosting a Carturesti bookstore for nearly one year, being the biggest one from their chain. Six floors, a bistro on the last floor, a multimedia space in the basement and a contemporary art gallery on the first floor are the place to be for a memorable shopping experience.
55 Lipscani Street, www.carturesti.ro
Kyralina French bookstore
Opened last month in the presence of the French writer Pascal Bruckner, Kyralina provides an authentic French cultural experience, for the purpose of personal enrichment and greater understanding of the diverse people of the French-speaking world.
8 George Enescu Street
In the newly refurbished historic Hotel Cismigiu building, Humanitas has opened a new outlet that respects the spirit and architecture of interwar Bucharest. One of the best bookstore chains in Bucharest, you can always find the latest titles here as well as your favorite works by world famous authors.
38 Elisabeta Blvd., www.humanitas.ro
Nautilus
Another long-termer, Nautilus heaves from floor to ceiling with shelves that are themselves bursting with books. Again, all major genres are covered, with its fantasy and sci-fi section particularly chock-full. Orders for out-of-stock titles can be made online. Games and other gifts (tarot cards, anyone?) are also on sale.
17 Arhitect Ion Mincu Street. www.nautilus.ro
Here are our other lists of shopping sites ideas: Romanian designer goods, souvenir shops, Christmas fairs, unusual home ware, festive food and drink, wine and dine.