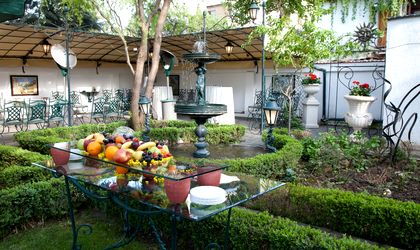 Upmarket international restaurant Mica Elvetie has marked the official opening of its summer terrace at a lively culinary event, hosted by chef and media personality Jakob Hausmann. The Swiss, also the owner of the eatery, entertained guests with an al fresco cooking demonstration, whipping up an insalata Caprese (a Capri-style mozzarella, tomato and basil salad) while also cooking broccoli soup, both of which were promptly delivered to guests for on-the-spot tasting.
The comestibles were intended as samples of Mica Elvetie's new seasonal menu. The restaurant promises "refined dishes made ​​with fresh ingredients. You can eat a gazpacho, a salad, sea bass fillet in beer sauce and, of course, a chilled dessert dusted with limoneta or pineapple carpaccio." The garden terrace is at the back of the restaurant, at 64 Strada Sandu Aldea, where diners can enjoy "a lawn, flowers and fresh air".
The opening event also offered a preview of the restaurant's entertainment program. A thematic culinary show will be held every Thursday evening, when guests can enjoy pasta, salad, risotto and grilled dishes. There will also be an interactive element, with diners invited to take part in proceedings.
Hausmann is also working on plans to open a new location in the center of Bucharest, aimed at a slightly different demographic. "With the opening of this new restaurant we will target a younger audience. The menu will be tailored to this target. But the quality of the food will stay the same. The menu will be changed with the seasons, drawing on fresh ingredients at fair prices," said the chef.
The new location will be run by Hausmann's gastronomic consultancy firm, Gastroexpert. The company is currently opening a sister restaurant in Craiova. Through his company, the Swiss has also advised more than 11 other locations including the Alpine Hotel, Clasico, Old Time in Tulcea and Black Tulip. Hausmann has previously opened a franchise in Silistra, Bulgaria.
Mica Elvetie was opened in 1998 and moved to its current location in 2006. Last year, it posted revenue of EUR 35,000. Hausmann, a lifelong fan of the culinary arts, graduated from chef school in Zurich. Since moving to Romania in 1991 he has established himself as a celebrity chef with various media appearances as well as his own TV show, Come On, Let's Cook (Hai Sa Bucatarim). In 2008 he became a Master in Culinary Art.
Debbie Stowe