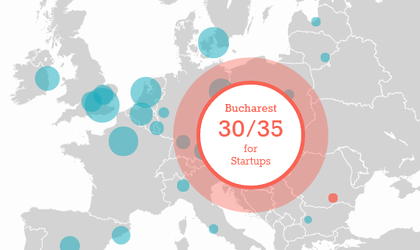 Bucharest occupies the lower ranks among 35 European cities in the European Digital City Index (EDCi), describing how well different European cities support digital entrepreneurship. Our capital city takes the 30th position, scoring low for access to capital, entrepreneurial culture, market and non-digital infrastructure.
The top shows it ranks highest in digital infrastructure, with most areas having good broadband, explained by the fact that most of the country skipped copper and went straight to fiber. However, much of the infrastructure is being underused, with online activity being relatively low compared to other European cities.
Another chapter for which Bucharest scores fairly well are skills, including variables such as labor costs (2nd place), access to ITC employees (10th place) and English language skills (16th). The city places 6th among the others included in the top.
Another sector for which our capital city ranked well was the mentoring and managerial assistance, placing 13th. One of the most important variables in this case is the existence of accelerators (12), such as Innovation Labs, which is a pre-accelerator for students with a focus on IoT and big data, and MVP Academy, a tech pre-accelerator for businesses. There are also a number of co-working spaces like TechHub Bucharest.
According to the study, Bucharest also scores well concerning availability of early-stage assistance (12), which measures the number of business angels, standardized per population level, and access to mentors (16).
However, the city scored among last (33) when it comes to non-digital infrastructure, with intra-city transport quality placing 32nd and inter-city transport quality 33rd.
Ranking last in availability of early stage funding and close to the bottom when it comes to availability of late stage funding (27th) and crowdsourcing (29th) has placed Bucharest 33rd on the scale measuring access to capital, partly as there remains a degree of bureaucracy which encumbers the startup process, and partly because of a lack of know-how among prospective entrepreneurs.
Another sector scoring poorly was the digital market (31), with a low level of local online transactions and low demand for digital services (both 33rd). Though the local market seems to have registered a high growth in local online transactions between 2013 and 2014 (placing 4th), the size of potential mobile-based market is among the lowest (34th) among the studied cities.
Bucharest lacks in entrepreneurial culture, ranking 30th, with variables such as multicultural diversity (32), willingness to take risks (30) and engagement with digital startup ecosystem (34) drawing the balance toward the lower end. The city scored better in terms of online collaboration (20), new business density (18) trust (16) and having a history of highly successful digital companies (14). Though the city seems to lack in the culture, it seems digital entrepreneurs are well perceived (9).
Startup Hub Europe's research reveals that Bucharest has over 170 startups. These companies have secured EUR 13.1m worth of funding in the past decade.
Recent notable startups include Vivre.ro, an online home furnishings company, Renovatio Solutions, a home automation firm, and Mobuy, developers of in-store mobile marketing. Also of interest are Axosuits (developers of low cost medical exo-skeletons), and 123ContactForm (makers of online forms).
On the other hand, recent exits of companies started by Romanian entrepreneurs include monetization platform for video publishers LiveRail acquired by Facebook in 2014, and uberVu, acquired by Hootsuite in 2014. Both companies are founded by Romanian teams but headquartered abroad. Other exits include MavenHut, who sold the rights for their game to RockYou! and DocTrackr who sold to Intralinks.
Natalia Martian