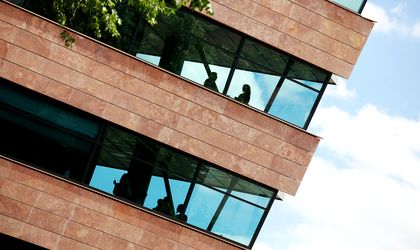 In Q3 2013, office leasing volumes were the highest they had been over the last two years, but the overall volume of real estate transactions dropped 51 percent in the first three quarters to EUR 84 million, according to CBRE.
Simona Bazavan 
Honeywell and Rompetrol leasing a combined 20,400 sqm in the Upground and City Gate office projects in Bucharest were the single most important office transactions in the third quarter of this year. This pushed the total volume of leasing transactions in Q3 2013 to 84,500 sqm, which meant an increase of 25 percent on the previous quarter and a whopping 223 percent rise on Q3 2012, according to a recent CBRE report.
The growth is welcome news for market players, yet the structure of leasing activity shows that the renewal and renegotiation of existing contracts still retain a dominant role. This amounted to 49 percent of total leased areas while take-up accounted for just 51 percent of the total leased area, slightly less than the previous quarters, according to CBRE data.
Renewals and renegotiations will go up slightly over the next period but in line with this year's average, Razvan Iorgu, managing director of CBRE Romania, told BR. "In 2014 we can expect to see more consistent pre-leases than in 2013, considering that a number of high-quality office projects will be delivered, which will be very attractive to tenants," he said.
Five pre-lease deals of an average of 1,000 sqm were signed in Q3, all of which are for buildings currently under construction. However, even with these signed transactions there is not a trend of pre-lease activity in the market, with only 8,700 sqm transacted since the start of the year, said CBRE representatives.
Where does demand come from? "In general there is growing demand from tenants in two different surface segments: medium-size tenants looking for areas under 1,000 sqm, and large or extra-large tenants interested in over 4,000 sqm. We expect the market to continue to be polarized between these tenant segments," said Iorgu.
Romania trails the region for new investments
Romanian real estate is nowhere close to getting out of the woods, CBRE data show. Poland and Russia were the main destinations for real estate investors in Central and Eastern Europe (CEE) in the first nine months of 2013, while Romania and Ukraine were the only two countries in the region to report lower real estate transaction values. Only two transactions worth EUR 84 million were closed on the local market in the first nine months of 2013. This was down 51 percent y-o-y. Out of EUR 84 million, office represented 76 percent compared with about 48 percent last year. Even so, there was an overall drop y-o-y.
While Romania reported fewer transactions, in the CEE region real estate transactions totaled EUR 6.8 billion, up 47 percent y-o-y. Most of these deals were signed in Russia (EUR 3.6 billion, up 41 percent y-o-y), followed by Poland (close to EUR 2 billion, up 81 percent y-o-y).
Who's building?
Only one office building was delivered in this last quarter – an 1,800-sqm property located in the central submarket. The last quarter of 2014 should see the opening of three major projects: Floreasca Park, City Offices and Hermes BC, which comprise a total of 82,300 sqm. This will represent about half of the 168,500 sqm of new office space to be delivered this year, according to CBRE.
Five more office projects have been announced for 2014, which will add another 78,000 sqm to the market – Metropolis Bravo, AFI Park 2 & 3, Green Gate and Skanska's Green Court Bucharest, with "a substantial pre-lease", says CBRE. Some 184,000 sqm of office space is under construction in Bucharest and due to be delivered over Q4 2013-Q2 2015, and at least another 600,000 sqm is in various stages of development.
An average of 167,000 sqm of office space has been delivered each year in Bucharest over recent years.