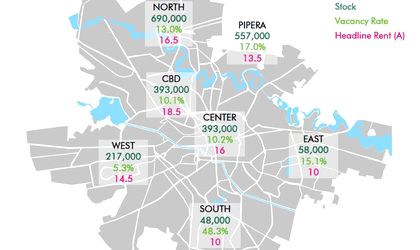 Total leasing activity on the Bucharest office market reached 72,000 sqm in Q3 2015, according to data released by CBRE. Of these, take-up represented 47 percent, while new demand made up 30 percent.
The Pipera (41 percent) and North (32 percent) sub-markets were most active, attracting 73 percent of the total office leases. The Central sub-market had a 12 percent share of leases, while CBD and West had 6 percent each and the South sub-market held a 3 percent share.
The IT sector took up almost half of the office spaces leased during this period, with a share of 48 percent.
The vacancy rate remained stable at 13.1 percent in Q3 (12.9 percent in Q2 2015), with the lowest levels recorded in the West (5.3 percent), CBD (10.1 percent) and Center (10.2 percent) sub-markets, while the South had a 48.3 percent rate. The North (13 percent), East (15.1 percent) and Pipera (17 percent) sub-markets stayed below 20 percent.
Prime rent and prime yield were stable at EUR 18.5 smq/mth and 7.5 percent, respectively.
By yearend some 41,600 sqm of office spaces are to be delivered, a large part of it being held by AFI Park 4 & 5, with a total area of 32,000 sqm.
For 2016, there are currently 16 other properties under construction, with a total size of 382,000 sqm, while in 2017 another  430,000 sqm will be developed, taking the total office stock to 2.35 million square meters.
Natalia Martian