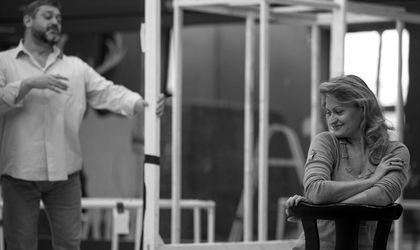 Giuseppe Verdi's last opera returns to the Bucharest National Opera House after many years of absence from its repertoire. The director is Graham Vick, known for his original and experimental stage productions. Anyone curious about the Briton's inspiration for his local production can look to the 1999 Falstaff he staged at the Royal Opera House Covent Garden, which took cues from the paintings of Renaissance artist Pieter Bruegel, resulting in a mix of grotesque expression, balanced compositions and elementary colors.
Vick, one of the world's foremost opera directors, shifts the action to the modern day, addressing with typical English humor contemporary themes such as consumer society, virtue and greed, through the spiritual world of Shakespeare's characters translated into musical theater by composer Giuseppe Verdi and librettist Arrigo Boito.
The new production relies heavily on the National Opera's soloists, who are mostly debutants. The leading character is played by baritone Stefan Ignat, one of the institution's best known artists. Ignat previously worked with Vick in 2005 on Enescu's Oedipe which was staged in Cagliari, Italy.
Scenographer Samal Blak has also contributed to the production. One of the individual winners of the Linbury Prize for Stage Design 2009, who has previously worked with Vick in the UK, he is known for his costumes and decor for La Monnaire Theatre of Brussels, English Touring Opera, Scottish Opera, Music Theatre Wales, Norwegian Ostford Opera and Linbury Studio Theatre from the London Royal Opera House.
The three-act opera is performed in Italian and subtitled in Romanian. The premiere took place on February 19. Further performances are scheduled for March 5-6 and May 14-15. Tickets can be bought online from http://tickets.operanb.ro/
Tatiana Lazar