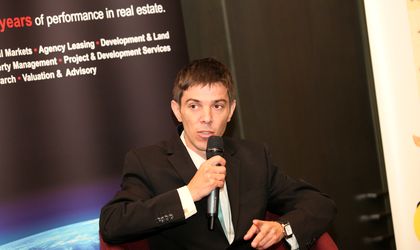 The average sale price of Bucharest apartments was down by 5.6 percent in March compared to the same month last year, said Georgian Marcu, president of the Romanian real estate agencies association (APAIR) this Thursday during the 13th edition of BR' Realty event.
By comparison, asking prices dropped by only 1.1 percent, within the error margin, added Marcu. At the same time, the number of properties put up for sale has gone up from 7,000 to 11,000 during the same time period.
The profile of the average property buyer and the type of financing used for the acquisition hven't changed over the past year, the only significant change being the fact that at present buyers are looking for apartments with more generous surfaces, he added.
The buyer's profile (data from the past 10 months collected by APAIR)
The acquisition represented the first property acquisition (38 percent of buyers), made an upgrade or relocated (37 percent of buyers), made an investment acquisition (22 percent of buyers);
Average age – younger than 35 (33 percent), between 35 and 49 (41), between 50 and 59 (22 percent);
Type of property purchased: old apartments were preferred to new ones;
Type of property: studio apartments (46 percent of buyers) one-bedroom apartments (28 percent), two-bedroom apartment (21 percent), the rest bought larger properties.
Financing source: the majority of acquisition monitored by APAIR over the past 10 months were financed from the buyers' own funds, followed by Prima Casa loans and regular mortgage loans.
Read more in next week's print edition
Simona Bazavan