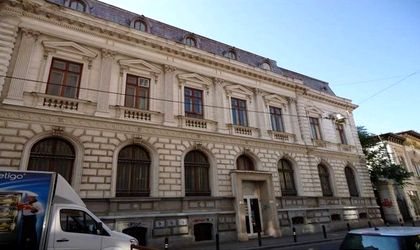 A Bucharest villa up for sale for EUR 7.5 million is presently the most expensive property available for purchase on Romanian real estate portal Imobiliare.ro.
The 2,000 sqm villa (carpet area) is located on a 1,200 sqm plot of land in the capital's historic center, close to the headquarters of the National Bank of Romania. The building was refurbished and consolidated in 1994 and until presently it has hosted a bank (pictured).
The second most expensive property on the market at present is also located in Bucharest. It is a 1935 villa located downtown, in the Romana area, which the owners want to sell for EUR 7 million. It features four buildings totaling close to 2,000 sqm (carpet area) and a 2,566 sqm plot of land. A similar property, this time located in the Universitate area, is up for sale for EUR 6.5 million. The villa has a 1,554 sqm carpet area and was built in 1900 and refurbished in the early 90's.
Outside the capital, prices are significantly lower.  Similar properties can be bought in downtown Brasov for EUR 2.26 million (1930, 822 sqm) and EUR 2.25 million (1931, 670 sqm) or Cluj-Npoca for EUR 1.8 million (refurbished in 2005, 600 sqm).
Going further west, in Timisoara, a 1,200 sqm villa located downtown is up for sale for EUR 1.2 million. The property was built in 1905 and requires refurbishment. Another property in downtown Timisoara, a 585 sqm villa, is on the market for EUR 900,000 sqm. The building presently hosts a restaurant.
For those interested in historic buildings, the oldest building included in the Imobiliare.ro ranking, is the EUR 1.85 million Udriste-Nasturel manor built around 1700 in Herasti, Giurgiu County. The 20-room property has a 1,350 sqm carpet area and is located on 5,000 sqm plot of land. It also comes with 3.37 ha of farmland.
However, it is not only historic buildings that made it to the top. In Constanta, a 2005 villa covering 660 sqm is up for sale for EUR 1.8 million and a 2010 house located on the seashore of the Black Sea can be bought for EUR 1.49 million. It has a 475 sqm carpet area and is located on a 500 sqm plot of land.
Imobiliare.ro is the largest real estate online platform in Romania, according to its data. It has over 900,000 unique visitors each month.
Photo source: Imobiliare.ro
Simona Bazavan