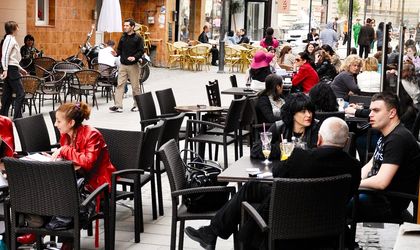 According to a recent proposal by the Bucharest City Hall most terraces in the capital's Old Town would close at 10.00 pm  between March 15th and November 15th, Mediafax news-wire reports. At the same time, these venues would no longer be able to host weddings and baptism celebrations.
The project is currently under public debate. The exception to the rule covers the terraces between Lipscani street, I.C. Bratianu boulevard, Splaiul Independentei and Calea Victoriei. These venues would be allowed to stay open until 12.00 pm during weekdays and until 1.00 am over the weekend.
Live shows organized by seasonal terraces are also set to end by 10.00 pm. The new project also stipulates that terraces in the Old Town can only be set up on sites approved by the General Urban Development Unit of the Bucharest City Hall, following a public bid. At the same time, terraces located on pavements are set to be located only on pavements at least three meters wide and allowing for pedestrian walking space of at least 1.5 meters. Terraces are set to be surrounded by green floral arrangements, and the use of plastic or artificial decorative plants is forbidden.
The project is currently under public debate on the city hall website www.pmb.ro. Feedback on the matter can be sent until January 25th.