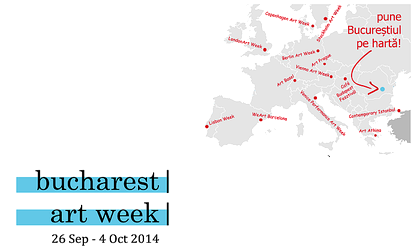 The firs edition of Bucharest Art will take place from 26 September to 4 October 2014 under the theme "Cities, borders and attitudes". The art week will be structured around the need of experiment and cultural exchange between artists from European countries, especially from central and eastern Europe.
Each edition will approach a theme of social interest and starting with 2015 will have a Romanian or international curator invited to set the theme, to sign the central exhibition project and to select the projects proposed by the artists, galleries, organizations and independent curators together with the other members of the jury.
This year's edition will involve a series of artistic events organised in public space counterbalanced with art expos, open workshops, artist talks and auxiliary events in galleries, alternative spaces and cultural centers. The organizers are aiming for an audience of 50,000 people.
After the public appeal for art projects meant for the public space the following projects were selected:
1. Sabin Garea, project: "Cismea inutila" / "Useles Fountain"
2. Adrian Dica, project: "Marele tomberon" / "The Great Garbage"
3. Art group EGG NO EGO (Valentina Chiriţa, Ana Barbu, Mina Barbu), project: "Delimitare" /"Limits"
4. Delia Maxim, project: "Urban Kid"
5. Julien Britnic, project: "Mini Image"
6. Roxana Gatej, project "City Stage"
Every author will be approached by the Bucharest Art Week team for questions regarding organisation and production. The final list of projects will be communicated shortly on the Bucharest Art week website.