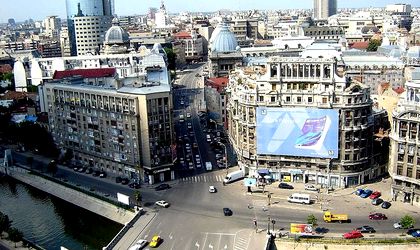 Asking prices for Bucharest apartments maintained a relatively stable evolution in 2014, increasing on average by 1.5 percent in Q4 2014 against Q4 2013, according to a report put together by real estate platform Imobiliare.ro.
Outside the capital, there were considerable differences in the evolution of asking prices. The highest increases were reported in Buzau (+6.7 percent, EUR 553/sqm in Q4 2014), Braila (+5.8 percent, EUR 574/sqm and Timisoara (+4.4 percent, EUR 824/sqm). At the other end of the spectrum, the sharpest drops were registered in Arad (-6.7 percent,EUR 486/sqm), Bacau (-3.8 percent,EUR 597/sqm) and  Sibiu (-3.7 percent, EUR 697/sqm).
"The fact that apartment prices are resuming an upward trend has become a certainty for all major cities. At the end of 2014 average prices were lower (e.n. compared to the previous year) in only eight county seats. We can therefore say that the residential market hit rock-bottom in 2014 and in some cities in 2013," said Adrian Erimescu, the general director of Imobiliare.ro. He added that another trend this year was the "unprecedented growth" of the rental market as in several cities, including in Bucharest, the number of properties put up for rent exceeded those put up for sale.
The average asking price for a Bucharest apartment in Q4 2014 was EUR 1,056/sqm (carpet area), the highest level reported countrywide. This was up by 1.5 percent compared to Q4 2013, but down by a staggering 53 percent compared to level reported in March 2008 (EUR 2,264/sqm) when the local residential market reached its peak.
While on average asking prices increased by 1.5 percent over the past 12 months, a closer analysis of levels reported in various neighborhoods reveals considerable differences. For example, in the case of old apartments, the highest price increase – 5 percent – was reported for apartments located in the Giulesti area of the capital where the average asking price in Q4 2014 increased to EUR 825/sqm. Despite the increase, this remains the neighborhood with the lowest price level in the capital. The highest drop – 4.7 percent – was reported by apartments located in the central area of Cotroceni (EUR 1,293/sqm in Q4 2014) and the Ferdinand Boulevard (EUR 931/sqm).
In the case of new apartments, the highest price increase – 31.4 percent – was reported in the Dacia-Eminescu neighborhood (average asking prices increased to EUR 1,785 in Q4 2014 from EUR 1,385 in Q4 2013). The steepest drop – 6.8 percent – was reported in the Giurgiului area of Bucharest (EUR 900/sqm in Q4 2014 compared to EUR 966/sqm in Q4 2013).
One-bedroom apartments remained the most sought- after properties by prospective buyers – 42 percent of them were looking for a one-bedroom apartment in Q4 2014 compared to 37 percent in Q4 2013. Studio apartments were of interest for 13 percent of prospective buyers (compared to 14 percent in Q4 2013), and two-bedroom apartments for 33 percent (compared to 34 percent in Q4 2013). Only 13 percent of prospective buyers wanted a three-bedroom apartment in 2014 (compared to 15 percent last year).
About a third of Bucharesters (29 percent) who wanted to buy a house in 2014 searched for properties priced between EUR 40,000 and EUR 60,000, 20 percent allocated between EUR 60,000 and EUR 80,000, 16 percent searched for properties in the EUR 80,000 – EUR 100,000 price range and 18 percent were willing to pay over EUR 100,000. At the other end of the spectrum, 16 percent were interested in properties priced between EUR 20,000 and EUR 40,000 and only one percent had a budget of less than EUR 20,000.
Between January and November this year, 35,480 apartments, 13,442 houses/villas and 17,230 plots of land were put up for sale in Bucharest and the Ilfov area. Also, 45,461 apartments and 3,447 houses/villas were put up for rent, according to Imobiliare.ro.
Simona Bazavan