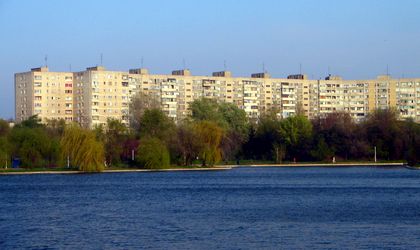 Prices of apartments in Bucharest fell by as much as 4 percent this September y-o-y following a greater number of properties coming onto the market and lower demand as a result of higher loan costs for those looking to buy through the government's First Home (Prima Casa) loan scheme, according to representatives of the AnunturiParticulari.ro real estate portal.
While the program will continue, beneficiaries can now obtain state-guaranteed mortgages only in the local currency, meaning tougher application conditions and higher monthly repayments. On top of this, there were 15.3 percent more apartments available for sale in September than in the same month last year, according to the same source.
All this has put pressure on prices. The most significant price falls – 4 percent on average – were reported for studios and one-bedroom apartments, the most sought after properties by First Home beneficiaries.
This September the average price of a studio flat in Bucharest dropped to EUR 33,020 while the cost of a typical one-bedroom apartment was EUR 53,020, down from EUR 55,154 in September 2012. The average price of two-bedroom apartments fell by only 2 percent, to EUR 73,000, while three-bedroom flats posted the lowest drop – down 1 percent to EUR 95,300 on average, according to AnunturiParticulari.ro.
Sale prices fell by 6.95 percent on average during January and August 2013, according to the same source. By comparison, in 2012 prices dropped by 1.3 percent y-o-y and in 2011 by 4 percent y-o-y,  according to real estate site Imobiliare.ro.
Overall, apartment prices in Romania contracted more sharply in the first eight months of this year than the rate of decline registered over the past couple of years.
The 6.95 percent drop meant that the average price slipped to EUR 910/sqm (both old and new flats).
In Bucharest, sale prices decreased by 7.38 percent to a EUR 1,054/sqm average. Other cities which reported price drops include Brasov (-5 percent, EUR 814/sqm).
There were also cities where prices went up, albeit by a marginal amount. Price increases were reported in Timisoara (+2.16 percent, EUR 802/sqm), Constanta (+1.51 percent, EUR 869/sqm) and Cluj-Napoca (+0.89 percent, EUR 904/sqm).
The government-backed First Home program was set up in 2009 to encourage first-time buyers to get on the property ladder.
The state guaranteed loans of up to EUR 60,000 (for old apartments) or EUR 70,000 (new apartments) allowing would-be homeowners who would otherwise be ineligible access to mortgages.
Beneficiaries of the Prima Casa program could buy an apartment or a house with a deposit of only 5 percent compared to the 20-25 percent required for regular mortgages.
Simona Bazavan