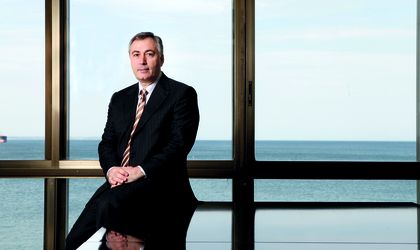 Andrey Kondakov, president of the Black Sea Trade and Development Bank (BSTDB), says the lender has approved loan agreements worth EUR 307 million in Romania, out of which EUR 75 million constitutes ongoing deals. He says the bank is targeting an array of sectors nationwide, ranging from agribusiness to infrastructure and energy efficiency, adding that the BSTDB is seeking to increase its loan exposure locally.
[restrict]
How much did the BSTDB register in profit last year, and what is your forecast for this year? What is the level of non-performing loans?
The BSTDB has been consistently profitable for nearly a decade since 2005, investing those profits back into its operational activities. 2013 was a solid year of progress for the bank operationally and institutionally, with net profit exceeding EUR 13 million. We are expecting another good year in 2014. At the same time, I must say that profit maximization is not an objective in itself for us. As a development institution, we pay prime attention to the development impact of our investments.
Maintenance of portfolio quality has always been a key feature of BSTDB operations. The bank's portfolio development has taken place against a backdrop of conservative risk management and comprehensive due diligence. We have been making due provisions for losses and non-performing loans (NPLs). Furthermore, with NPLs, we always work closely with the client to find a mutually acceptable solution to save the operation. This approach has resulted in limited financial losses and generally low levels of non-performing loans.
Naturally, the financial crisis and its consequences hurt all business processes, generating higher operational risks and amplifying probabilities that a borrower may not be able to serve obligations under a loan agreement fully or in a timely manner. The BSTDB faced increased levels of NPLs in 2010-2012, peaking at over 8 percent of the portfolio. The bank's prudent practices and joint efforts with our clients helped us to substantially reduce this level to around 5 percent at end 2013. Overall, in 15 years of operations, the bank has had only 11 NPLs. Most of them were successfully restructured and recovered. From the total sum of over EUR 2.6 billion disbursed by the bank to its clients in the region, the amount written off under NPLs is a negligible 0.02 percent of the portfolio.
How has the BSTDB developed since its founding? Has its lending strategy changed at all?
This month the bank marks the 15th anniversary of its operations in the Black Sea region. During this period, the BSTDB has sought to fulfill its dual mandate to support economic development in its member countries and to promote regional cooperation between them by providing financing for investment operations and trade transactions.
Starting from scratch, the bank has developed a broad range of financial products and services for banks, firms and agencies active in all its eleven member countries – Albania, Armenia, Azerbaijan, Bulgaria, Georgia, Greece, Moldova, Romania, Russia, Turkey, and Ukraine.
The initiative to establish the BSTDB was undertaken in the 1990s, a stressful period of systemic transition, macroeconomic constraints and occasional political turmoil for many of the bank's member states. Despite these difficulties, the shareholders remained committed to the idea of the creation of a wholly locally owned and focused development bank. This commitment has been sustained and enhanced over the years, forming the bedrock for all the bank's achievements.
Since the start of its operations in 1999, the BSTDB has approved nearly 300 operations totaling about EUR 3 billion. Over EUR 2.6 billion has been disbursed to support national economic policy priorities in member countries, focusing on key sectors generating economic growth and employment – manufacturing, energy, transport, telecommunications, agribusiness, trade and the financial sector. Today, the BSTDB is recognized as a regional success story, having established itself as an attractive partner for clients, sponsors and co-financiers active in the Black Sea region.
Support to small and medium-sized business (SME) development has been a significant cross-sector priority. SMEs account for the vast majority of operational and employment growth across the region. Under its SME support program, the bank has approved more than EUR 875 million in SME financing.
Regional infrastructure development is key for economic development. The lender has approved financing to support transport and telecommunications projects exceeding EUR 510 million.
The BSTDB has assisted in a range of energy sector activities, including oil and gas, power supply and distribution, renewable energy and energy efficiency, having approved projects exceeding EUR 475 million.
In recent years, the bank has become increasingly active in supporting municipal initiatives to develop local infrastructure, transport and public utilities, having approved municipal projects exceeding EUR 200 million.
The bank's trade finance program has supported the development of regional exports as well as import transactions among member states, to the tune of EUR 600 million.
Since securing its initial investment grade rating from Moody's in 2004, the BSTDB has been upgraded three times and currently possesses an A2 long-term rating. The lender has also obtained a long-term rating of A- from Standard and Poor's. Today it is the best rated institution in the Black Sea region, and one of the highest rated in Central and Eastern Europe. These ratings attest to the bank's solid financial fundamentals, portfolio quality and strong shareholder support.
Over the 15-year period, the BSTDB mandate has remained unchanged, as have its strategic objectives to support regional cooperation and growth in member countries. Nevertheless, the bank has developed and implemented several four-year strategies and business plans, in close collaboration with member states' governments, adjusting priorities and business targets to the changing economic environment and needs of governments and clients.
As the sophistication of firms in the region has grown, the bank has broadened its array of activities, providing longer horizons and accommodating more complicated financial products and loan structures. The bank is extending its outreach to less well established firms which show growth promise, management quality, and vision. The BSTDB is increasing its activities targeting public and quasi-public sector entities, including municipalities and regional authorities, as well as public-private partnerships and other types of concessions.
What are the strongest markets for the lender at the moment and how do you perceive Romania? How much has the BSTDB granted in loans to local companies and institutions to date?
Currently, Turkey and Russia represent the largest markets for the BSTDB. Romania's share is about 7 percent of the portfolio, similar to that of Bulgaria.
It must be noted that the BSTDB used to be more active in Romania before the country joined the European Union and got access to cheaper money and special EU funds. As a development bank, we pay prime attention to countries with fewer financing opportunities.
Cumulatively, the bank's board of directors has approved 31 operations for over EUR 307 million in Romania. At the moment, eight operations are being implemented under signed agreements exceeding EUR 75 million. The BSTDB is working on several business proposals and we expect to increase our financing to Romanian enterprises and banks in the coming years.
What sectors are you financing in Romania? Do you still consider the renewable industry an attractive sector given the changes in the local incentives system?
Under the BSTDB country strategy for Romania drawn up in cooperation with the Romanian government for 2011-2014, the bank is supporting growth and investment with a special focus on infrastructure, energy efficiency, telecommunications, agribusiness and SME support.
It is considering support for the renewable energy sector in Romania, and recently signed a EUR 10 million financing for a solar energy generation project. However, this sector receives plenty of private investment and is growing rapidly without a pressing need for financing from development institutions.
Agribusiness is one of Romania's main income and employment generators. There are idle capacities in this field that still need to be utilized by entrepreneurs. The BSTDB has provided a total of EUR 52 million to three agribusiness projects in Romania. This amount does not include small operations financed by Romanian financial institutions using BSTDB credit lines for SME support.
The BSTDB will consider any bankable project, paying special attention to activities corresponding to the government's strategic priorities. The bank is constantly exploring business opportunities in cooperation with our partner development institutions.
How have the tensions between Ukraine and Russia impacted your lending activity? How much has the bank financed in Ukraine and Russia? Will you stay in these two countries?
Over its 15 years, the bank has operated in a regional economic and political setting that has experienced both good and challenging times. The shareholders clearly realized the importance of common goals and demonstrated a joint will to promote regional projects of mutual interest, while leaving aside political and economic disputes. Despite the challenges, the BSTDB has not experienced significant problems from the political tensions arising from time to time between some member countries. Our shareholders represented on the bank's governing bodies have always demonstrated commitment to the bank's development mandate to support growth and economic cooperation in the region.
At the moment, Russia and Ukraine are the second and third largest BSTDB borrowers, with active portfolios exceeding EUR 200 million and EUR 140 million, respectively. The bank maintains close relations with the governments of both countries, and we are monitoring the situation. So far, the events have not materially changed our operational outlook. Russia and Ukraine both have financing needs that can be served well by an IFI (e.n. international financial institution) like the BSTDB, and so we remain prepared to develop further the bank's business there.
Has the financing environment in Europe changed since the start of the year – as the EU economy has begun to return to growth – albeit still timid? (I am referring to banks' appetite to finance private companies.)
We are cautiously optimistic as regards the financing environment in Europe, including, of course, Eastern Europe. The upturn in the economies of the EU is a key factor in this regard, and what we have observed in an increased appetite for the bonds of EU sovereigns extends to the corporate sector as well.
Another important factor is that banks are adapting to new EU regulations – especially as concerns capital requirements – and while there may yet be 'tweaks' here and there, for the most part there is much less regulatory uncertainty today than there was in the previous post-crisis years. This will make it easier for banks to extend credit to companies over the next few years, although we wouldn't rule out occasional hiccups.
Caution is also necessary because financial markets are more responsive than ever to external disturbances or shocks.
We are aware that the Romanian economy registered the highest growth rate of all EU countries in the first quarter of 2014, continuing on the path of healthy growth recorded in 2013. If this strong rebound in economic activity continues, it may exceed the availability of credit from private sources. Against this backdrop, the bank will consider enhancing cooperation with Romanian private companies in the context of its new medium-term strategy and business plan for 2015-2018 currently being drawn up.
[/restrict]