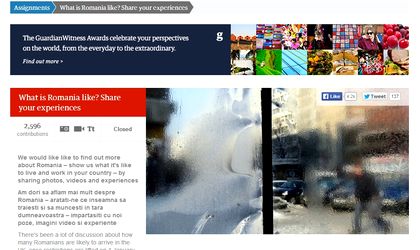 "What is Romania like?" is a campaign that British newspaper The Guardian has started few days ago. "There's been a lot of discussion about how many Romanians are likely to arrive in the UK, once restrictions are lifted on 1 January 2014, however we'd like to find out more about Romania and what's it really like to live and work in your country.
We'd like you to tell us what you love about being a Romanian citizen and why you would never want to leave, also if you're planning on coming to the UK, what you will miss most. If there are challenges you face in everyday life, that are informing your decision to leave, we'd like to hear about those too.", notes the newspaper.
In addition, Romanians all over the world started to upload photos, videos and testimonials about Romania, materials that can be seen here.
Oana Vasiliu