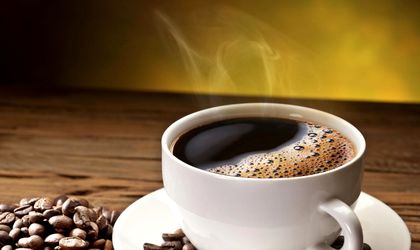 In the last of BR's regular looks at life in Bucharest and Romania through the eyes of an outsider before the summer break, what the trajectory of the city's coffee consumption says about the changing capital, while fans at the Robbie Williams concert find that through it all, the organizers don't offer them much hydration.
Debbie Stowe
I can trace my 13 years in Romania not through tea leaves, but through coffee beans. When I first arrived, if someone offered you a coffee, it would likely be in the Turkish style: thick, dark, with a layer of sediment at the bottom and made in an ibrik (or cezve as it is known in Turkish), a metal pot with a handle that was plonked on the flame with the water and coffee mixed together inside it.
It would generally be served with sugar in it, whether you wanted sugar or not (which seemed a strange, communist way of doing things to someone from a more individualistic culture where we are used to being asked our preferences) and it would keep you awake and shaking until next Wednesday.
You couldn't really add milk because when you stirred it all the bits would rise up from the bottom of the cup and you would end up drinking them. (Plus the milk was often UHT type and you might be thought quite odd for asking anyway.)
Drinking this type of coffee was worthwhile as a cultural experience or a social and bonding ritual, even if the drink itself was not hugely palatable. (This is not to assume any superiority: growing up in the UK in the 1980s and 1990s, coffee generally meant the instant stuff – Nescafe, or Gold Blend if you were really classy. Even now, Starbucks and Costa are seen by many as the apotheosis of a high-end coffee outing, and unless you know where to go and are prepared to be divested of the best part of GBP 3 – nearly RON 20 – your coffee experience is likely to be fairly miserable.)
Jump to Bucharest 2015: what a difference! As the country has shifted its center of gravity from Eastern Europe and the Balkans to look west, Italian-style coffee has largely elbowed out its Turkish counterpart. While the ibrik still rules the roast in many older people's homes, younger Romanians are more likely to use a French press, if not a swanky espresso machine. The announcement earlier this year of Nespresso's arrival on the local market marks a symbolic moment in Bucharest's coffee transition.
Go into a modern, upmarket coffee shop these days, and if you do see an ibrik, it's likely to be hanging on the (white) wall as part of the trendy, ironic, post-modern décor. And don't think about lighting a cigarette. Do expect to pay Western prices, though.
I realized how far the coffee scene here had changed the other day, when I made the faux pas of asking for a decaf cappuccino (needed for medical reasons) in a Western style cafe. "We don't serve decaf coffee," came the (slightly haughty and disdainful, or was it just me?) reply. "We only serve specialist coffee, and decaf is not specialist coffee."
The barista didn't add, "So take your non-specialist requests, get out and don't come back," but I felt it was implied. Chastened, I ordered a weak latte and slunk away from the counter.
There was a time in Bucharest when a coffee shop serving decaf would have been a sign of a modern, progressive establishment. No more. We are clearly living in the post-decaf age.
Life won't break me – but queuing for water might
Sticking with the theme of beverages, it seems that it's not possible for there to be a great reaction to a big concert in Bucharest, without an equal and opposite reaction to the poor organization of said concert.
The latest example was at the Robbie Williams gig. "Let me entertain you," ran the name of the tour – and lived up to its offer. But nobody was saying, "Let me refresh you" – or if they were, it was followed by "But you'll have to queue for an hour."
True, it's not easy to organize an event for 60,000 people. But you can make it easier by implementing a sensible and efficient system for buying drinks. There is a commercial (if not an ethical) case for taking fans' bottles of water from them as they enter the gig in order to oblige them to buy water from your sponsors – but it only works if you then make it possible for them to buy water. Suppliers Coca-Cola and Ursus have apologized to thirsty fans, both citing the conditions imposed by the organizers.
Having to queue for an hour to get a drink is not only annoying, but in Bucharest's summer heat (and the show was taking place in mid-July, so there was no excuse of having been surprised by the weather, as the organizers of the Roxette concert could have claimed in response to the freak storm that caused problems then) it is dangerous. If reports are true that not even the medical staff present had water to give out, this is gross irresponsibility.
Concerts in Bucharest are usually extremely well received by enthusiastic audiences and conducted in a great atmosphere (any "Hello Bucharest/Budapest" confusion notwithstanding). Certainly Robbie Williams seemed to think so: after the show he tweeted, "Bucharest: sometimes it's that good it's indescribable. As good as any show I've ever done… you were unbeatable tonight x".
But while the fans' enjoyment is repeatedly ruined by woeful organization, the steady convergence of local ticket prices to Western European levels is an insult to the music lovers who make these events so special.