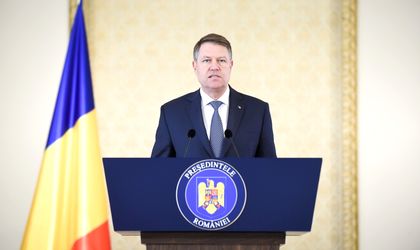 The Supreme Country Defence Council (CSAT) meeting on Tuesday was suspended by president Klaus Iohannis, who requested a new budget revision with softer cuts for National Security institutions. The meeting had been requested by the Government to evaluate the budget revision proposals for institutions with national security responsibilities.

The only topic discussed during the meeting was the budget revision. CSAT must give its opinion on the budgets of defence institutions.
"We have some data: the government has published a revision proposal in August, a very positive one. However, to the surprise of many on a strong positive revision, the government has proposed significant cuts to national security institutions. Then they came up with a new project. It is inexplicable why we have continued to insist on reducing the funds of the institutions in the area of ​​national security. The government did not provide any explanation," said Iohannis.
There was no consensus in the meeting, therefore it was suspended and now the CSAT is waiting for the Government to come back with a new revision project.
The meeting's agenda included the analysis of the proposals for the revision of the state budget for institutions with attributions in the field of national security for 2018.
Participants at the CSAT meeting included Klaus Iohannis, Prime Minister Viorica Dancila, Defense Minister Mihai Fifor, Interior Minister Carmen Dan, Foreign Minister Teodor Melescanu, Justice Minister Tudorel Toader, Finance Minister Eugen Teodorovici, Economy Minister Danut Andrusca, chief of Defense Staff, Nicolae Ciuca, SIE Head, Gabriel Vlase, presidential advisor Ion Oprisor and CSAT Secretary Mihai Somordolea.
"It is inexplicable and it has not been explained why it has insisted on diminishing the funds of national security institutions. The Government did not come up with explanations, and the directors of the services and institutions explained that the objectives set in the CSAT could not be achieved in the first part of 2018. In view of this, the necessary opinion could not be issued for the budget rectification."

"I expect the Government to give up these budget cuts in the area of national security, which in any case can only be explained by a 'political baffle', to come back to discussions, collaborations and as soon as the situation is resolved the CSAT's opinion will be obtained ", said the head of state.