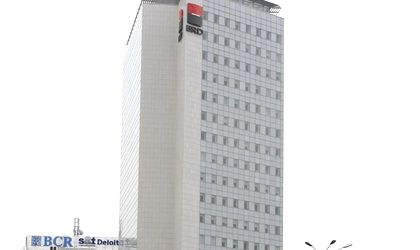 The net profit of BRD-Groupe Societe Generale dipped 84 percent year-on-year to RON 13 million (EUR 3 million) in the first quarter, as the demand for banking products and services failed to pick up due the difficult economy.
BRD's net banking income shrunk by 10.5 percent to RON 687 million (EUR 156 million), mainly due to a 17.1 percent reduction of the net interest margin to RON 433 million (EUR 99 million). The net commission income fell by 1.9 percent to RON 181 million (EUR 41 million) and the lender was able to increase the revenue from other sources by 20.2 percent to RON 72 million (EUR 16 million).
The lender axed operations expenses by 6.3 percent RON 314 million (EUR 71 million), which lowered the cost to income ratio to 45.7 percent.
BRD said the "restrained economic environment" impacted the net risk cost that added 4.2 percent to RON 350 million. It added the current risk cost was lower than the figures registered in the last two quarters of 2012.
The gross loan book rose by 2.1 percent to RON 35 billion (EUR 8 billion), helped by a 3.4 percent increase in the retail segment – housing loans. Meanwhile, deposits added 3 percent to RON 32.5 billion (EUR 7.4 billion).
BRD's assets fell by 5 percent to RON 45.3 billion (EUR 10.3 billion). Its return on equity climbed to 5.6 percent.
Ovidiu Posirca