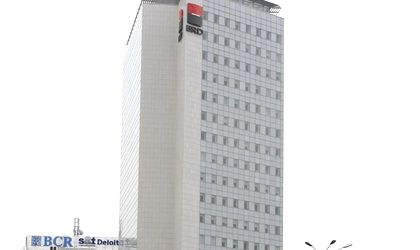 BRD Groupe Societe Generale registered a net profit of RON 270 million during the first half of the year, double the numbers they had over the same period last year (RON 128 million), according to a statement by bank representatives.
Its assets, up 4.24 percent, have returned to RON 47 billion (the level registered in 2013), after a drop to RON 45.18 billion in 2014.
BRD Group's outstanding net loans reached RON 27 billion, down by 2.5 percent year on year due to the contraction of the SME loan portfolio, but up by 1.1 percent versus December 2014, thanks to further expansion of the portfolio of credits to individuals and large corporate clients.
Net loans to individuals reached RON 17 billion, up 2.6 percent versus June 2014 and 2.4 percent versus December 2014. The growth was sustained mostly by the expansion of the housing loan portfolio. New housing loans recorded an annual advance of 78 percent, to RON 0.8 billion, supported by funding through the Prima Casa (First Home) program, which accounted for 76 percent of total new loans for housing, and the standard real estate loans.
The volume of new loans to individuals totalled RON 2.4 billion in the first six months of 2015, up by 18 percent versus the corresponding period of last year.
The balance of net loans granted to large corporate clients recorded an advance of 6.6 percent over the end of last year and 2.8 percent compared to June 2014.
BRD Group's deposits grew by 9.5 percent versus June 2014 and by 4.9 percent against December 2014, reaching RON 37.7 billion due to good deposit collection from both retail and non-retail customers.
"Household deposits increased above the market growth rate, with a particularly sustained increase of deposits in current accounts (up 23.6 percent up year-on-year). The large deposit base, which accounted for 89.4 percent of total liabilities, together with a comfortable ratio of net loans to deposits (71.6 percent in June 2015, down 2.9 percentage points against December 2014 and 8.7 percentage points against June 2014) ensures a high financial autonomy," the report says.
Net banking income decreased by 5 percent compared to the first half of last year to nearly RON 1.23 billion, amid low interest rates, but rose by 2.4 percent compared to the previous quarter due to increased net interest margin and income commission.
"The suppression or reduction of some commissions on retail segment and lower revenues from commitments and guarantees from the Bank translated into a 3.4 percent decline of net fees and commissions income. The BRD Group registered nonetheless higher revenues from internet and mobile banking, custody & depository services, asset management, syndicated loans and cash operations," shows the press release.
Operating expenses declined by 1.3 percent to RON 633 million compared to the corresponding period of last year, with he cost/income ratio standing at 51.6 percent.
BRD's capital adequacy ratio of 16.3 percent at individual level (under Basel III regulations) in June 2015 is above the regulatory requirement and compares to the June 2014 value of 16.6 percent.
BRD Groupe Societe Generale was established in December 1998, when Societe Generale signed an agreement with Fondul Proprietatii de Stat, subscribing a 20 percent capital increase and purchasing a stock that allowed it to own 51 percent of BRD's increased capital. In 2004, Societe Generale purchased the residual stock held by the Romanian State in the capital of BRD.
Natalia Martian