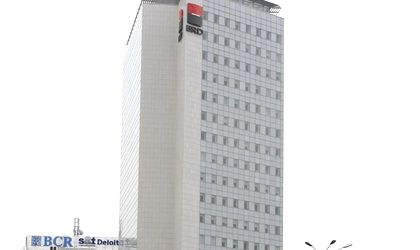 BRD Groupe Societe Generale saw its profits soar to RON 50.1 million (EUR 11.5 million) in the first nine months of the year, against a profit of RON 10.4 million (EUR 2.3 million) in the same period of last year.
The net banking income fell 5.6 percent to RON 2 billion, driven by smaller net interest margin. The lender axed operational expenses by 5.5 percent, while the next risk of cost was slashed by 10.5 percent.
"The evolution of the Romanian banking market during the third quarter of the year was not comforted by the general macro-economic conditions, the demand for loans remaining low," said BRD in a statement.
It added the retail market continued to capitalize mainly on the Prima Casa (e.n. First Home) loan scheme.
BRD's gross loan book shrank by 5.1 percent to RON 34.4 billion (EUR 7.8 billion), because of lower demand in the corporate segment. Deposits, meanwhile, rose by 6.6 percent to RON 33.8 billion (EUR 7.6 billion), driven by companies.
The bank's total assets fell 6.6 percent to RON 45.1 billion (EUR 10.2 billion).
Shares in BRD closed 4.23 percent down to RON 9, 0500 on Thursday trading on the Bucharest Stock Exchange.
Ovidiu Posirca