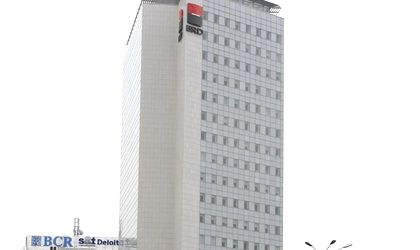 BRD – Groupe Societe Generale posted a net profit of RON 467 million (EUR 104.31 million) in 2015, soaring over the values registered during the previous year, of RON 68 million, according to the bank's financial reports. The main drivers for these results were the 45.8 percent decline in risk cost and the 2.3 percent decrease in operating expenses, the lender says.
BRD net loans outstanding inched down 0.6 percent at the end of 2015 y-o-y, with positive evolution on retail and large corporate clients. Housing loans were the main growth driver on retail, increasing by 12.7 percent in terms of net outstanding and by 49.7 percent in terms of loan production.
Individuals' loans hiked 21.8 percent over 2014, reaching RON 5 billion, on the back of an increase in the number of active individual customers by 14,000 to 2.1 million. The stock of individual internet and mobile banking contracts also rose by 40.1 percent to almost 0.9 million. Large client net loans posted a 9.2 percent gain.
"The year 2015 was marked by a positive trend on two important business lines – retail and large corporate clients and the shift to sequential growth of quarterly revenues. Going forward, BRD will continue to capture lending growth opportunities and to help finance the economy by leveraging on its universal bank model, diversified customer base and solid financing sources," said Philippe Lhotte, BRD CEO.
The bank's total deposit market share reached 14.8 percent in 2015 (13.8 percent on individuals' segment and 15.9 percent on companies' segment), up 0.5 percent, according to its internal calculations. Deposits showed a faster pace than the one on the market, rising 13.9 percent year on year. In addition, BRD AM's assets under management increased by 30.9 percent reaching RON 2.9 billion at December 31, 2015.
The ratio of net loans to deposits was 66.4 percent, down 9.6 percentage points versus the end of 2014.
Net banking income decreased in 2015 by 4.4 percent compared to 2014 to RON 2.5 billion, as a result of historically low interest rates and suppression or reduction of some fees and commissions for individual customers.
The lender cut its operating costs by 2.3 percent to RON 1.2 billion compared to 2014, primarily as a result of savings on real estate costs, consultancy expenses and staff expenses. The cost/income ratio stood at 51.7 percent.
NPLs ratio fell from 20.3 percent at the end of 2014 to 17.1 percent in 2015, mainly as a result of write-off transactions.
BRD's capital adequacy ratio of 17.3 percent at individual level (under Basel 3 regulations, with national discretions) at December 31, 2015 stood above the regulatory requirement and at a similar level to the one in 2014 (17.2 percent).
Natalia Martian