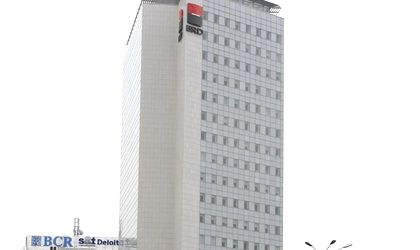 The net profit of BRD – Groupe Societe Generale, the second largest lender in Romania, fell by 87.8 percent year-on-year to RON 39.4 million ( EUR 8.8 million) in the first semester, after the net cost of risk more than doubled to RON 714 million from the previous quarter due to a drop in value of guarantees on bad loans.
The net interest income fell by 8.5 percent to RON 933 million (EUR 209 million), while the net commission income lost 1 percent to RON 375 million (EUR 84 million).
BRD's operational income was down by 5.7 percent to RON 1.4 billion (EUR 313 million), while operational expenses fell by 2.4 percent to RON 689 million (EUR 154 million). The bank invested EUR 8.2 million in the first semester, mainly for upgrading the IT and network infrastructures.
The lending activity gained 5 percent versus the 1.7 percent growth in the banking system to RON 35.2 billion (EUR 7.8 billion), while deposits added 13 percent to RON 32.9 billion (EUR 7.3 billion).
BRD's assets lost 1.9 percent to RON 47 billion (EUR 10.6 billion) and the lender's total debt went up by 1.6 percent to RON 41.9 billion (EUR 9.3 billion).
The return on equity dropped to 1.3 percent in the fist semester of this year from 11.1 percent in the same period of 2011.
The largest shareholder in BRD is French Societe Generale with a 60 percent stake, while five financial invesment firms (SIF) have 18.6 percent of the shares. Meanwhile, the Property Fund holds a 3.6 percent stake. The lender had 932 units across the country and 8,179 employees.
BRD shares lost 2.75 percent and traded at RON 8.5 on Monday afternoon trading.
The Romanian subsidiary of Societe Generale is in the process of naming a new CEO. Philippe Lhotte will be new the new general director at BRD and will also act as temporary administrator of the bank starting September 1. Previously, he was the general director at SG Expressbank AD, the Bulgarian subsidiary of Societe Generale. This decision was made after Alexandre Paul Maymat refused the appointment due to personal reasons.
Ovidiu Posirca