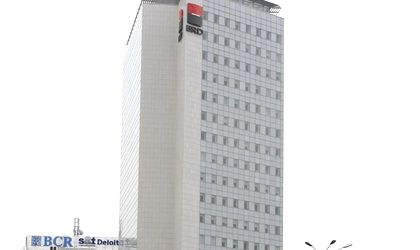 The net profit of BRD-Groupe Societe Generale rose by 58 percent to RON 62 million (EUR 13.9 million) in the first semester against the same period of last year, as the lender lowered operational expenditure and the risk cost.
BRD's operational result fell 5 percent to RON 1.3 billion, which was attributable to a reduction of 8.7 percent in the interest income. The lender was able to slash 8.9 percent off the operational expenditure mainly due to a reduction in personnel expenditure. The lender reported a cost to income ratio of 45 percent in the first half, down 1.9 percentage points from the first half of 2012
"The overall banking system saw a reduction of lending activity in the first half of 2012. Thus, BRD acted in an economic environment marked by weak credit demand from retail clients and companies that limited their investments," said the bank in a statement.
The loan book lost 1 percent to RON 34.8 billion (EUR 7.8 billion), despite a 3.2 percent expansion of retail lending that was driven by mortgage loans. Corporate loans lost 4.8 percent to RON 17.6 billion (EUR 3.9 billion).
BRD registered an increase of non-performing loans (NPL) of 4 percentage points to 22 percent and rose the NPL coverage rate to 57.5 percent. The net risk cost decreased by 7.8 percent to RON 659 million (EUR 148 million).
Meanwhile, deposits fell by 0.9 percent to RON 33.2 billion, "positively" influenced by foreign currency deposits.
BRD's assets lost 5.8 percent to RON 44.9 billion (EUR 10.6 billion), in the first half.
Shares in BRD added 0.57 percent to RON 7.8 on Thursday afternoon trading on the Bucharest Stock Exchange.
Ovidiu Posirca