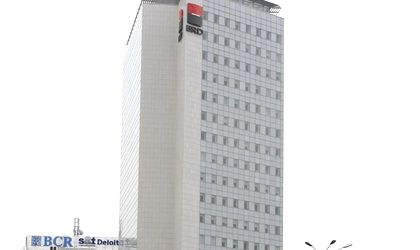 The net profit of BRD – Groupe Societe Generale, fell by 98 percent on nine months to RON 10 million (EUR 2.2 million), due to soaring risk costs, which climbed by 58 percent to RON 1.1 billion (EUR 242 million).
BRD's net banking income fell by 6 percent to RON 2.1 billion (EUR 462 million), due a 9 percent fall in the net interest income to RON 1.4 billion (EUR 308 million). Meanwhile, the net commission income slightly increased to RON 572 million (EUR 126 million).
The lender cut operational expenditure by 4 percent to RON 1 billion.
BRD's loan book grew by 8.1 percent to RON 36.5 billion (EUR 8 billion), driven by large corporates. Deposits added 5.4 percent to RON 31.6 billion (EUR 7 billion). The loan to deposit ratio stood at 103.7 percent.
The lender, whose assets amounted to RON 47.6 billion (EUR 10.4 billion), had to increase the risk cost in response to lower guarantees on non-performing loans. Its return on equity (ROE) fell sharply to 0.2 percent by September, from 10.2 percent in the same period of last year.
BRD's capital adequacy ratio stood at 13.6 percent by September, well above the central bank's minimum threshold.
Ovidiu Posirca