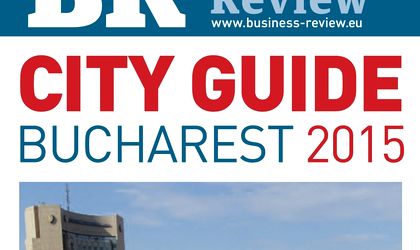 Bucharest City Guide brings you the must-read insider's low-down on what to see, what to do and where to eat in Romania's vibrant capital city, drawing on the expertise of a mixed local and expat team of journalists. With a portable and easy-to-use format, the guide is divided into sections and maps.
Featured in the international media among Top 10 rising summer destinations for 2015 (The Huffington Post, The Guardian, The New York Times) Bucharest has seen over the past year an increase in the number of tourists to 1.71 million, who spent EUR 1.07 billion (RON 4.79 billion) in the country.
This autumn, over 2.500 foreign artists and 500 national artists are expected on the 2015 edition of George Enescu Festival, which will take place between August 30 and September 20, at the Palace Hall and the Romanian Athenaeum, among other places, gathering 58 concerts. This is the reason why you can find the City Guide in all the locations of the events. Also, you can find the guide in 4* and 5* hotels, restaurants, coffee shops, bars, business centers, airlines and the airport, Medical & Health Centers and Cultural Centers.
Read also: First notes of Enescu Festival chime out
Romania's checkered history is writ large on the face of its capital city, which boasts an eclectic mishmash of architectural styles and eye-catching structures. It's worth taking a while to stroll through the center of town; almost any wander will take you past some striking and attractive buildings. At the beginning of the 20th century, Bucharest's elegance earned it the moniker of "the little Paris". Many of its landmark buildings, constructed in the 19th century, display the influence of the French architectural style. Several are on or around Calea Victoriei, one of the city's main north-south thoroughfares, so easily seen on a walking tour. Waiting for you is a fascinating and dynamic metropolis, which yields various charms as you stroll the bustling streets flanked with their eclectic edifices.
Tatiana Lazar