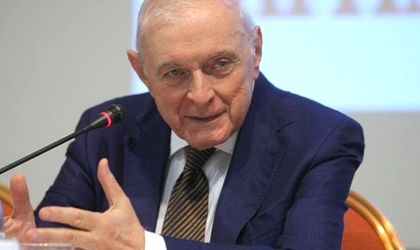 Adrian Vasilescu, adviser to Governor of Romania's National Bank (BNR) Mugur Isarescu, told Business Review that the Government has the Constitutional right to set taxation, but he blames the state's price regulation for high inflation and high levels reached by Romania's money market rate high levels (ROBOR).
According to Adrian Vasilescu,  "the tax for greed" if wrongfully associated with banks because the financial private institutions have no influence on ROBOR's increase, inflation does. "The ROBOR levels are set by the economic reality of the economy. A country with high inflation will have high interest rates. Does this greed really belong to the banks, or it actually belongs to the collector (n. red. The Government), and the banks just have pay the price of high inflation rates?", Adrian Vasilescu stated rhetorically. According to him, the problems created by inflation were generated by the shocks of public authorities' way of regulating energy prices.
Minister of Finance Eugen Teodorovici announced on Tuesday evening that the Romanian government follows in Hungary's steps and will introduce a tax on bank assets of 0.9 percent from January 1st, 2019 and will cap the retail and corporate gas price at RON 68/Mwh, Finance minister Eugen Teodorovici said on Tuesday evening, in a press conference.
Visibly stressed during his presentation and refusing to answer to reporters' questions at the end of his long speech, Teodorovici presented the new tax on bank assets as a "tax on greed."
"Banks pay 2 percent interest rate, on average, for savings but take 8 percent for loans," the minister argued.
According to his speech, the so-called "tax on greed" will depend on 3-month and 6-month ROBOR levels, being between 0.2 percent of assets for ROBOR rates between 1.5 and 2 percent, 0.4 percent for ROBOR between 2 and 2.5 percent, 0.6 percent – 2.5-3 percent – and 0.9 percent – between 3 and 3.5 percent.
ROBOR maintained above the 3 percent in Romania during most part of this year as inflation rose to the highest level in the EU so banks will have to pay a 0.9 percent-tax on assets if the measure is imposed since the beginning of next year.