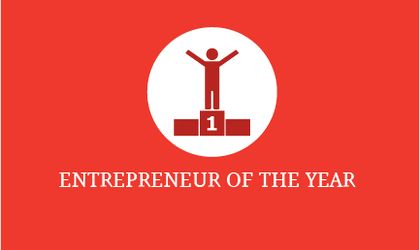 As the 12th edition of Business Review Awards Gala, BR magazine's flagship event that recognizes the outstanding achievements of the business community, will take place on February 27, we want to put the spotlight on the 10 categories and finalists that were selected by the independent jury for their exceptional activity in 2016.
For BR Awards 2017, the jury looked at over 100 nominees and selected 43 companies, entrepreneurs and executives that will compete for a trophy.
The Entrepreneur of the Year category awards the entrepreneurial efforts and achievements of a local business person who has managed to develop a successful regional or national business, looking either at the innovative nature of the business started or at the growth parameters and the created value.
The story of Dan Isai – the winner of the previous edition
Dan Isai, one of the four founders of food company Salad Box, won in this category after his company had increased the number of locations by 35 percent and had registered a boost in turnover in 2016.
Last year, the entrepreneur rolled out a new fast-food brand called Pep&Pepper and Isai was also looking to launch a new coffee shop chain.
The finalists were selected by an independent jury based on the following criteria:
Development of the business over the years
Unique characteristics of the business
Results achieved against investment and the overall industry
Look at the ethics and values exemplified in the business
The added value of his/her business on the market
The finalists of this category are:
Daniel Truica – Vola.ro
Ioan Iacob – Qualitance
Laurentiu Banescu and Alexandru Geamanu – Bere Zaganu
Radu Savopol – 5 To Go
Teodor Blidarus – Softelligence
The jurors of BR Awards 2017
Anca Rarau – Marketing Director, BCR
Cosmin Alexandru – Transformation Partner, Wanted Transformation/Entrepreneurship Academy
Istvan Kocsolade – Manager, Accenture Management Consulting
Joshua Burke – Commercial Attaché & Deputy Senior Commercial Officer, US Embassy Bucharest
Marius Ghenea – Investment Director, 3TS Capital
Matteo Patrone – Director for Romania, EBRD
Oana Bulexa – Managing Director, The Practice
Oana Craioveanu – CoFounder, Impact Hub
Silviu Stoica – Partner, Popovici Nitu Stoica si Asociatii
Sotiris Chatzidakis – Executive Vice President, CEO Clubs