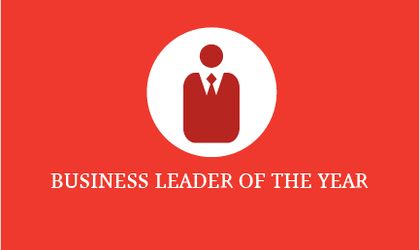 As the 12th edition of Business Review Awards Gala, BR magazine's flagship event that recognizes the outstanding achievements of the business community, will take place on February 27, we want to put the spotlight on the 10 categories and finalists that were selected by the independent jury for their exceptional activity in 2016.
For BR Awards 2017, the jury looked at over 100 nominees and selected 43 companies, entrepreneurs and executives that will compete for a trophy.
The Business Leader of the Year category seeks to recognize remarkable achievements of business people that go above and beyond their daily roles and responsibilities as head of companies, local or international. The Jury will take into account the company's results (measured against the market conditions in the respective industry, the resources used to achieve it, the individual experience and innovation aspect) as well as specific leadership initiatives – in and outside the company, such as the involvement of the candidates in improving the business environment and on trying to solve some of the society's current challenges.
The story of Omer Tetik – the winner of last year's edition
CEO of Banca Transilvania, Omer Tetik, was awarded as Business Leader of the Year in 2016. Under his mandate, the lender took over Volksbank Romania, in a deal that was finalized at the end of 2015.
Last year, Banca Transilvania became the second biggest bank in Romania by assets, following the full integration of Volksbank.
Tetik has been the head of BT since June 2013. In 2016, the bank recorded a net profit of RON 1.23 billion in 2016, half of the result from 2015.
The finalists were selected by an independent jury based on the following criteria:
The main business achievements of the nominated person's past year of tenure
Results of any projects/initiatives (not necessarily connected to the core business) done to support the overall business environment in Romania
Evidence of the nominee's achievements and role as a leader within the community
The finalists of this category are:
Dragos Anastasiu – Eurolines
Felix Patrascanu – FAN Courier
Ilinca Paun – Colliers International
Radu Georgescu – Gecad Ventures
The jurors of BR Awards 2017
Anca Rarau – Marketing Director, BCR
Cosmin Alexandru – Transformation Partner, Wanted Transformation/Entrepreneurship Academy
Istvan Kocsolade – Manager, Accenture Management Consulting
Joshua Burke – Commercial Attaché & Deputy Senior Commercial Officer, US Embassy Bucharest
Marius Ghenea – Investment Director, 3TS Capital
Matteo Patrone – Director for Romania, EBRD
Oana Bulexa – Managing Director, The Practice
Oana Craioveanu – CoFounder, Impact Hub
Silviu Stoica – Partner, Popovici Nitu Stoica si Asociatii
Sotiris Chatzidakis – Executive Vice President, CEO Clubs