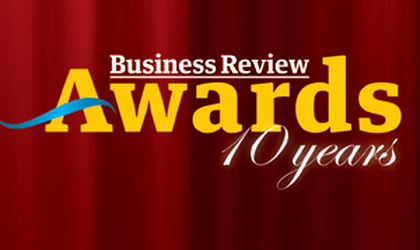 The online nominations for the Business Review Awards are now open! Nominate your company by February 13th in one of the 12 categories.
Business Review magazine has been awarding the success stories and exceptional results of businessmen active on the local market since 2006. This year we are celebrating 10 years, during which, with objectivity and constancy, we've awarded excellence in varied business domains and the people who made a difference on the local business market.
In 2015, we continue the tradition and kick-start the online nomination stage. Thus any company/individual that meets the eligibility requirements outlined below can submit their nominations in one or more categories by filling in the online form afferent the category you are applying for. The nomination forms for each of the categories are available on the event webpage HERE. The deadline for entries is February 13th, 2015.
The shortlist of nominees will be available on the event webpage and the winners will be announced and presented with their awards during the Gala ceremony to be held on March 2nd at Radisson Blu Hotel in Bucharest.
Eligibility requirements:
–        Have a one-year performance history through to December 31st, 2013;
–        Have had consistent and positive investment objectives over the past year in accordance with the judging criteria of the specific category you are applying for.
This year's categories are:
1. Sustainable business practices
2. Online strategy for business development
3. Innovation in technology
4. Best start-up supporter
5. Best SMEs financing line program
6. NEW! Best micro-financing program
7. Best turnaround performance
8. Best employment initiative
9. Entrepreneur of the year
10. Deal of the year
11. Business leader of the year
12. Excellence in business
All the nominees and their performances will be analyzed by a jury composed of members known for their experience, insight and leadership.
Jury members:
Lucian Croitoru, Senior Advisor on Monetary Policy at National Bank of Romania
Viorel Ciocoiu, Adviser to the Secretary of State, Head of the Foreign Investment, International
Affairs and Promotion Directorate
Ravinder Takkar, CEO at Vodafone Romania
Cristi Sporis, Vice President at Raiffeisen Bank
Catalina Rousseau, President  & CEO at BDR Associates
Manuela Furdui, Managing Partner at Finexpert
Felix Patrascanu, Managing Director at Fan Courier
Ion Sturza, Owner of Friebourg Capital, shareholder at Elefant.ro
Razvan Patrunoiu, Country Manager Director, Accenture Romania
Matei Paun, Managing Partner at BAC Investment Bank
George Butunoiu, Managing Partner at George Butunoiu Executive Search
Partners: Accenture, BDR Associates, Finexpert
With the support of: Baker Tilly, Carrefour
Supporting organizations: AHK, BRCC, CCIFER, CCIpR
Media partners: Avocatnet.ro, Business Woman magazine, Cariere magazine, doingbusiness.ro, TVDigi24, Woman in business Association, RFI, wall-street.ro.
For information regarding the nomination and also registration process, contact us at 0724.371.853 or by email – events@business-review.ro.
Details for saving a seat or table are available here